Jimmy Savo
al secolo Vincenzo Rocco Sava
di famiglia Lucana originaria di Stigliano
born Vincenzo Rocco Sava
from a lucanian family from Stigliano
Questa pagina è dedicata a Jimmy dal 30 agosto del 2008.
Inizialmente lo era soltanto per presentare la prima ristampa in lingua italiana
del libro "Salve, piccolo mondo".
Nel tempo è diventata una raccolta di notizie, immagini, film, dati ed altro.
Dal 15 ottobre 2015, giorno del mio incontro a Stigliano (Matera)
con lo storico locale Rocco Derosa in cui per la prima volta parlai lì di Jimmy,
e la sera del 23 aprile 2016 quando la comunità stiglianese apprese,
ancora per la prima volta, il nome di Jimmy Savo, altre persone
si sono aggiunte a far conoscere questo personaggio meritevole di riemergere.
Ora, oltre alla presente pagina, è disponibile un encomiabile apposito sito,
completo, ben impostato e razionale, ad opera dello stiglianese Felice Lacetera,
sito che consente finalmente una comoda ed esauriente informazione
su questo grande uomo di spettacolo sconosciuto ai più, www.jimmysavo.it .
Franco Della Rosa - 27 settembre 2018.
Cliccare sull'immagine di destra del libro per aprire il contenuto in pdf
Jimmy Savo è stato un giocoliere, comico e attore statunitense.
É nato la domenica del 31 Luglio 1892, a New York negli Stati Uniti.
É morto il sabato 3 settembre del 1960 alle ore 5, all'età di 68 anni, nel Castello del Poggio di Guardea in Italia,
Paese ove riposa insieme alla seconda moglie (14.2.1926) Lina Farina (Roma 18.4.1902- Guardea 10.4.1988).
Il suo nome di nascita era Vincenzo Rocco Sava figlio di Giuseppe (calzolaio) e Carmela Baione (filatrice)
ambedue nativi di Stigliano, provincia di Matera, in Lucania (1).
Jimmy Savo has been an american juggler, comedian and actor.
He was born on Sunday, July 31st 1892 in New York, United States.
He died Saturday, September 3rd, 1960 at 5 o'clock, at the age of 68, in the Caste del Poggio in Guardea, Italy.
Country where he lies with His second wife (02/14/1926) Lina Farina (Rome 04.18.1902- Guardea 04/10/1988).
His birth name was Vincenzo Rocco Sava son of Joseph (cobbler) and Carmela Baione (spinner)
Both natives of Stigliano, in the province of Matera in Lucania. (1)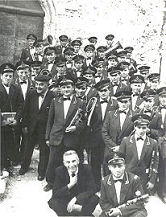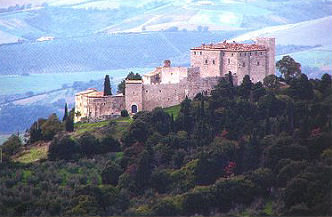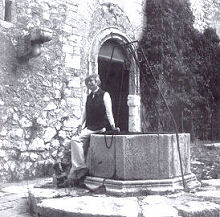 Jimmy Castello guardeese del Poggio, di Jimmy Savo e Lina Farina Lina
oggi Società Poggio Vecchio di Aleandro Tommasi (†) - Irene Fabi - Marco Pica
Del Poggio Castle in Guardea, of Jimmy Savo and Lina Farina
today the "Poggio Vecchio Company" of Aleandro Tommasi (†) - Irene Fabi - Marco Pica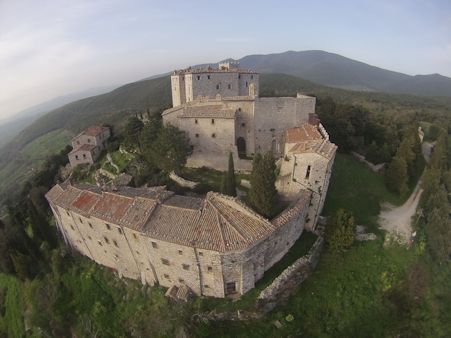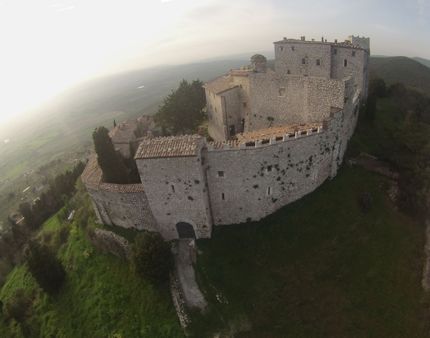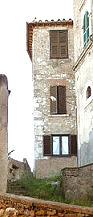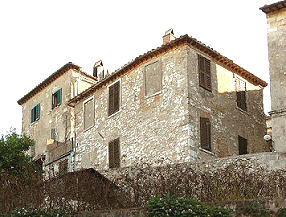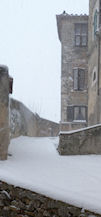 e, Palazzetto amerino di Via Marcheggiani oggi Della Rosa
and his residence in Amelia, Marcheggiani street, today a Della Rosas'property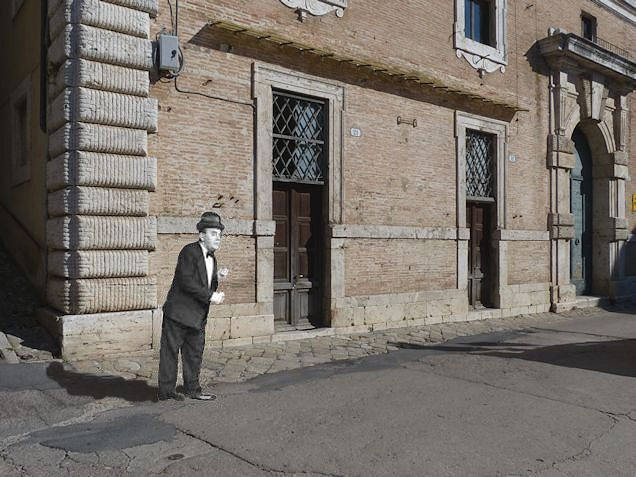 Accanto a questo ex-bar di questo ex-paese abbandonato di Ameria ho conosciuto Jimmy Savo,
all'inizio delle vacanze scolastiche estive, nel 1960, ad appena tre mesi dalla morte.
É qui che ho impresso il nitido ricordo di una persona distinta ed umile, cordiale e sorridente.
Per meravigliare i presenti, in particolare noi bambini, lasciava rotolare la sua "bombetta" dalla testa lungo il braccio e viceversa.
(Jimmy, ogni volta che veniva in zona sostava al negozio "Della Rosa" di Via della Repubblica ad acquistare una dozzina di orologi,
poi una manciata di sigari poco più avanti dalla tabaccheria "Pedinelli" quindi riempiva due tasche di caramelle da zio "Menchino" a Croce di Borgo.
Dopo due chiacchiere con le più disparate persone del posto che incontrava salendo, tra Piazza Catena e Piazza Marconi, aveva già regalato il tutto.
Sensibile ai problemi altrui pagò il costo di una protesi, in sostituzione della "tradizionale" gamba di legno, alla giovane Signora "Ginetta" Acciacca,
avendo anche lui lo stesso problema sempre a causa di un incidente, venendo incontro alla sua necessità).
Next to this ex-bar of the now abandoned ex-town Ameria I met Jimmy Savo,
at the beginning of the school summer holidays, in 1960, just three months before his death.
It is here that I fixed in my mind the clear memory of a distinguished and humble, friendly and smiling person.
To surprise the bystanders and in particular us children, he used to tumble his bowler hat from the head down the arm and back again onto his head.
(Jimmy, whenever he happened to come in the area, used to go to the shop "Della Rosa" in della Repubblica Street to buy a dozen watches, then to the tobacco shop "Pedinelli" just beyond for a fistful of cigars, then filled his pockets of candies at my uncle "Menchino"'s shop in di Borgo Cross.
After some chats with the most diverse local people he met walking upwards through the village, when he was about Marconi square or Catena square, he had already given away all he had bought.
Being sensitive to people's problems, he paid the cost of a prosthesis, replacing a "traditional" wooden leg, to the young lady "Ginetta" (as him too had the same problem because of an accident).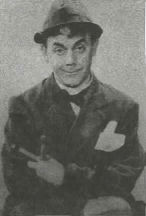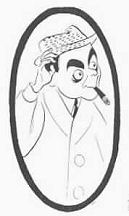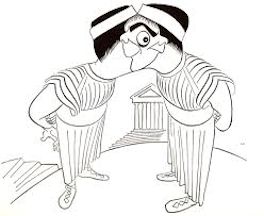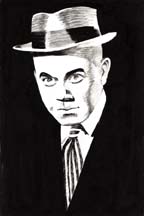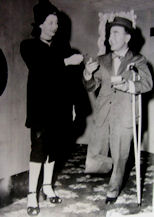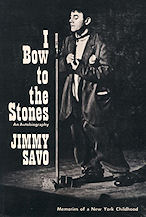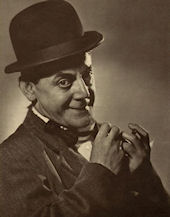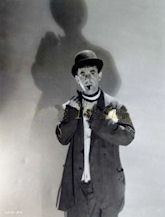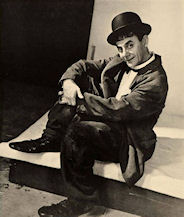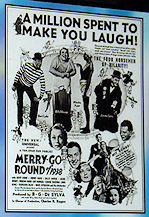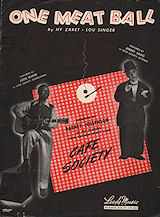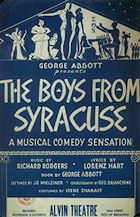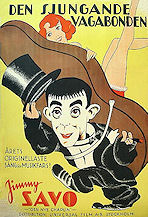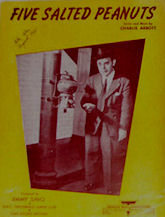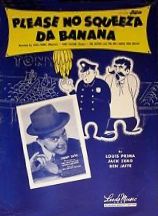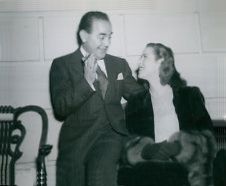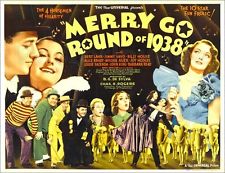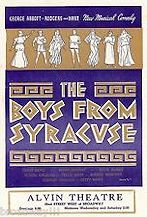 FILMS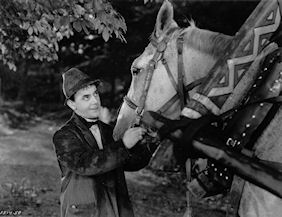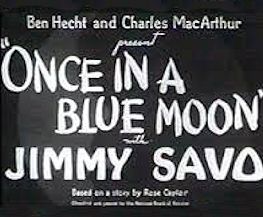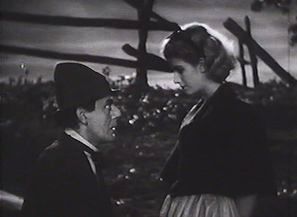 "

Once in a 

Blue Moon"

 

 è

 

un

 

film realizzato

 

in

 

Astoria

, 

NY nello studio di

 

Paramount.
Naturalmente in inglese. In alcuni 

momenti Jimmy si avvicina nella interpretazione a Chaplin.
Rappresenta la storia di un gruppo di nobili russi in fuga dalla rivoluzione bolscevica del 1914.
Gruppo che incontra un circo europeo itinerante, quello guidato da Gabbo (Jimmy) che,
per sfuggire agli inseguitori li accoglie travestendoli come la troupe circense,
dando con loro spettacolo fin tanto torna "il sereno" che gli consente di rientrare nella propria vita.
Primo film recuperato in dvd (F.D.R. - gennaio 2015) "Una volta in una luna blu"
Film ► https://www.youtube.com/watch?v=g2nBh9xrPCM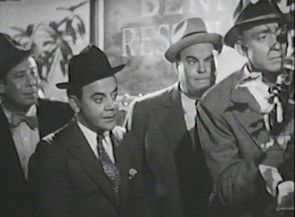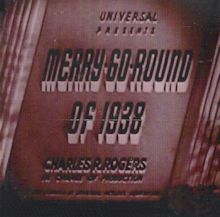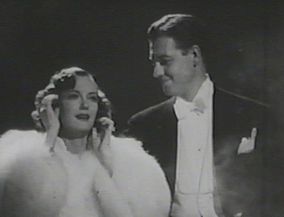 "Merry-Go-Round of 1938" è stato il primo (e ultimo) film del progetto
di una serie di film che mettono in luce i migliori talenti di Broadway.
Tre star della Great White Way: il comico Bert Lahr, l'artista pantomime Jimmy Savo
e il monologhista Billy House-team con il veterano di Hollywood, il ruba scene Mischa Auer.
La trama vede i nostri quattro eroi prendersi cura di una graziosa ragazzina.
Secondo film recuperato in dvd (F.D.R. - marzo 2015) "Carosello del 1938"
Film ► https://www.youtube.com/watch?v=303DU6XD5P8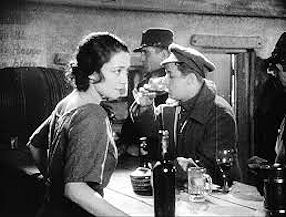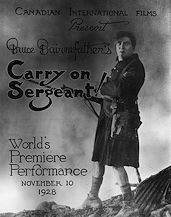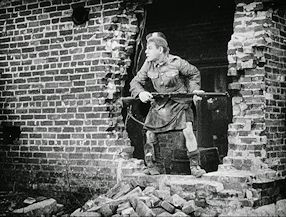 "Carry on Sergeant" è un film realizzato in Canada nel 1927-28.
Tratta di un gruppo di lavoratori che decidono di arruolarsi nella Grande Guerra
e di sbizzarrirsi nei risvolti d'essere soldati, tantoché uno di loro si sposa una cameriera francese.
Terzo film recuperato, segnalato dal Sig. Rocco De Rosa (novembre 2015) "Proseguire, sergente!"
Film ► https://www.youtube.com/watch?v=_AlsPDkK_FA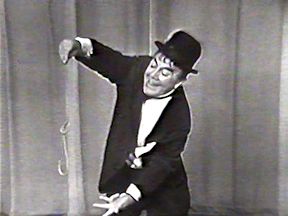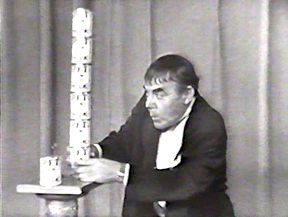 "All-Star Summer Revue" è una trasmissione televisiva andata in onda negli Stati Uniti all'inizio
degli anni '50. L'attuale registrazione, di circa 60', contiene tre pezzi di Jimmy ed è del 1952.
Jimmy Savo
Jan Murray * Les Dassies
Tommy Wonders & Margaret Banks
Dorothy Claire
Quarto film recuperato, inviato dal Nuovo Messico dallo studioso del Vaudeville Sig. Frank Cullen (marzo 2016)
Film ► https://www.youtube.com/watch?v=O1ZlqRJ7Q44
LA VOCE
La voce di Jimmy Savo in: "One Meat Ball" www.youtube.com/watch?v=aDoG769vo_w
L'ABITAZIONE DI NEW YORK
Il filmato della residenza newyorchese di Jimmy al Central Parck South, 210 - int. 19
https://www.youtube.com/watch?v=frfBXTGJ2Xo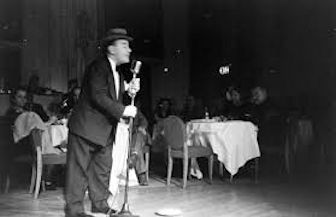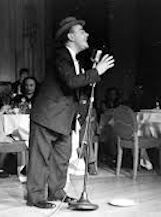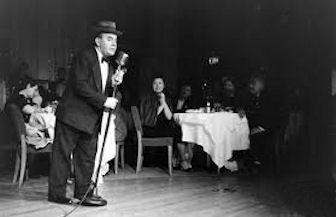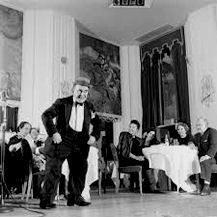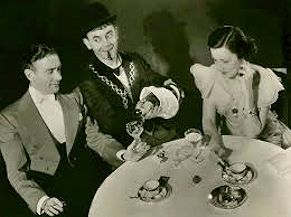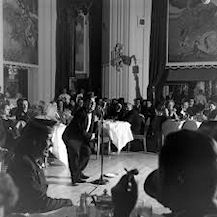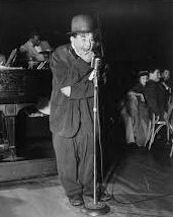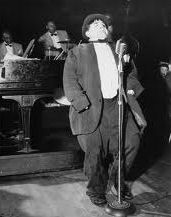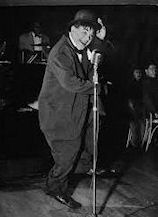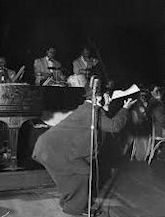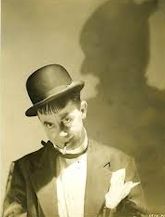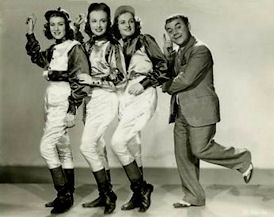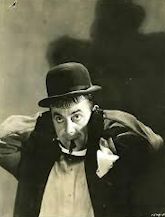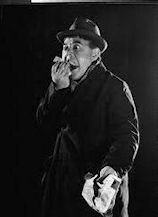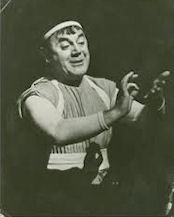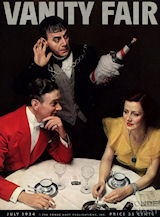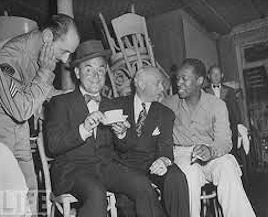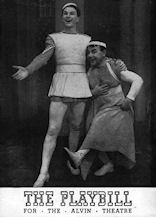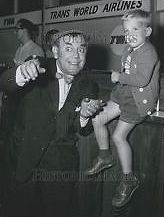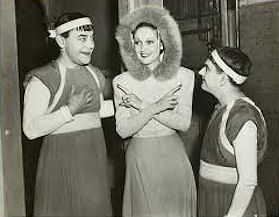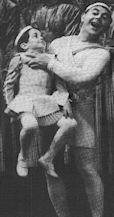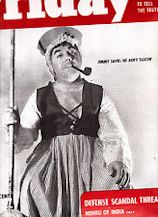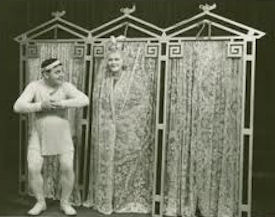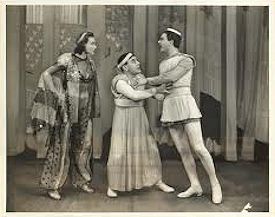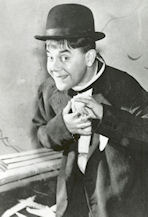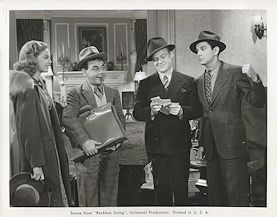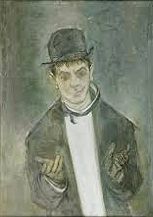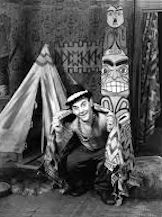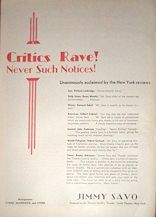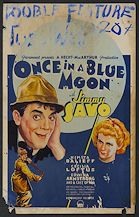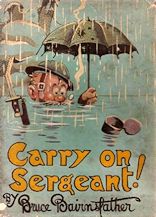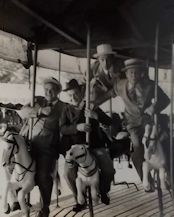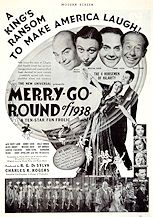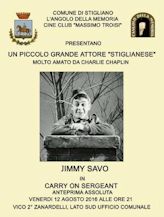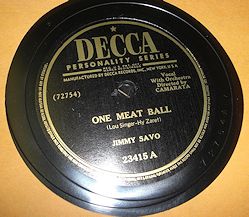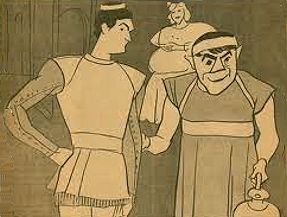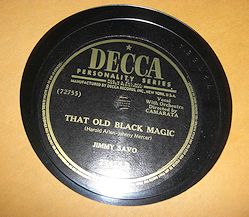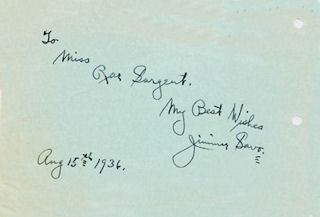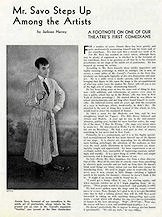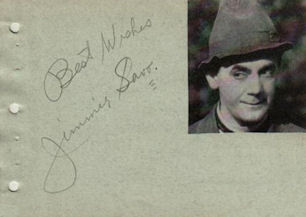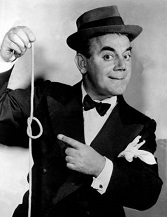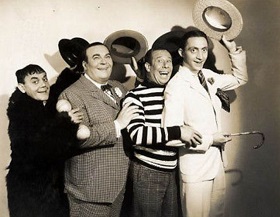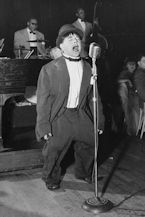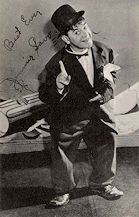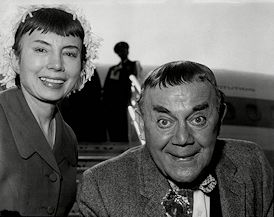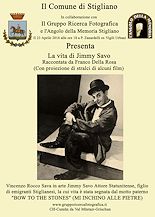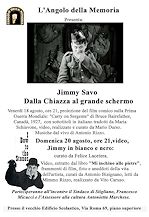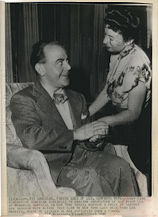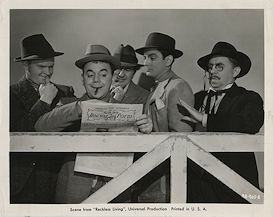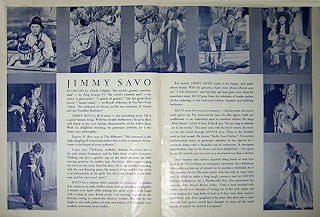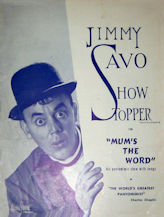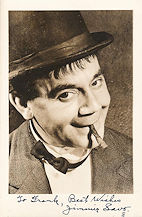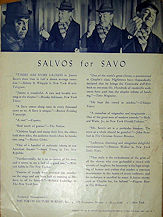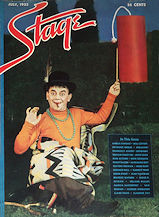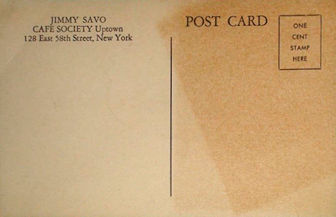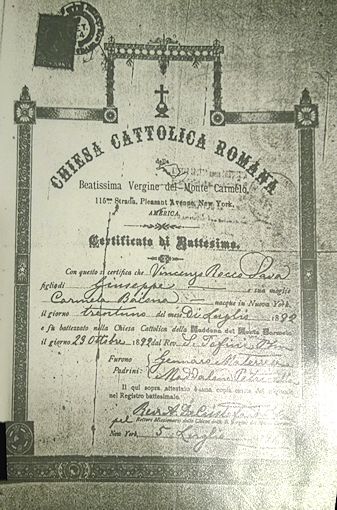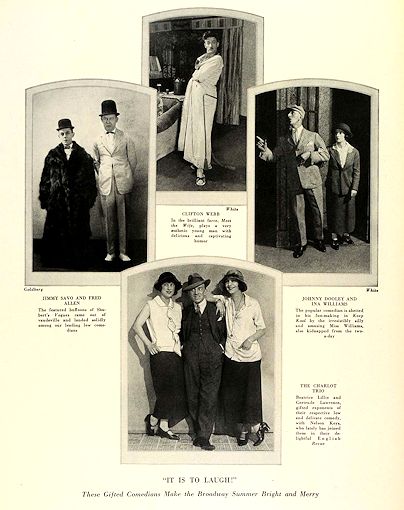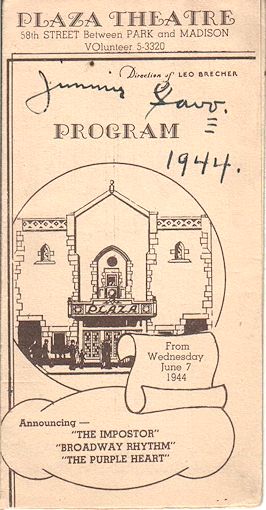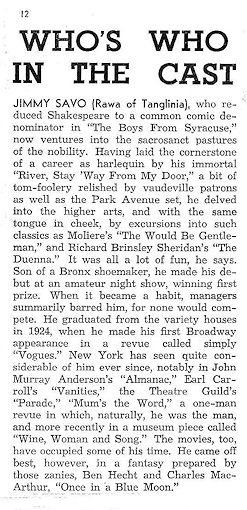 *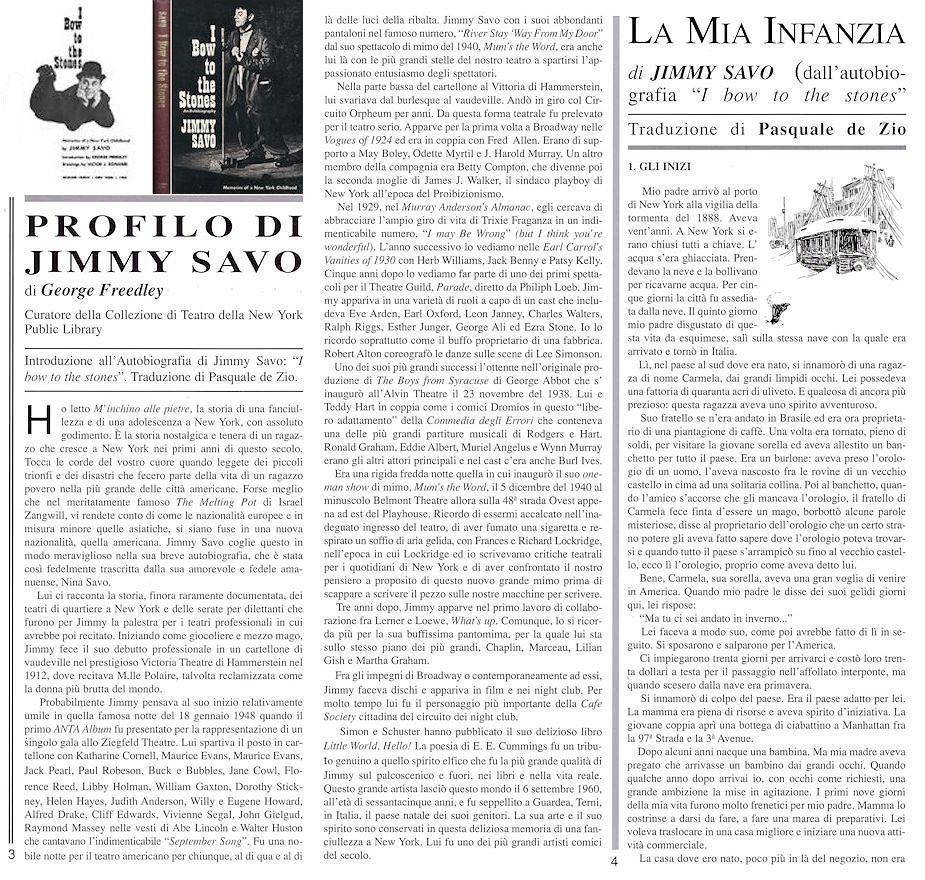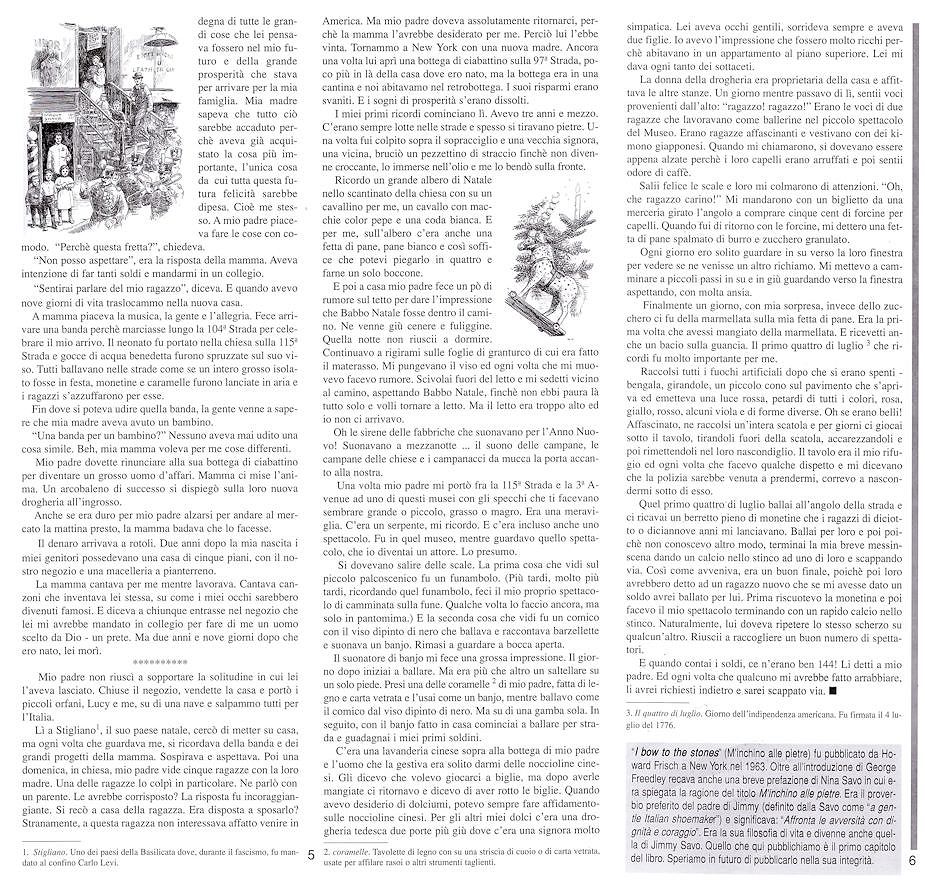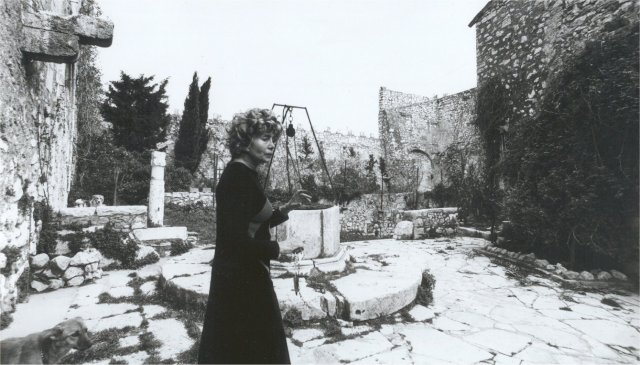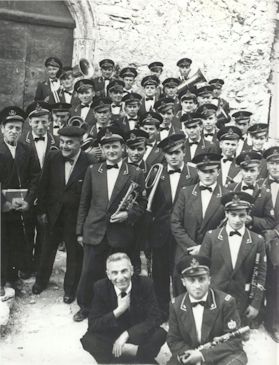 La moglie Lina Farina al castello, nel 1975 (FDR) Jimmy Savo con la Banda di Guardea all'ingresso del Palazzo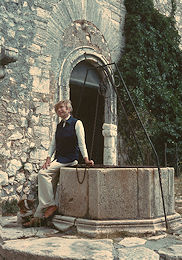 Il Palazzo e l'interno come si presentava nel 1976 Lina nel 1985 (FDR)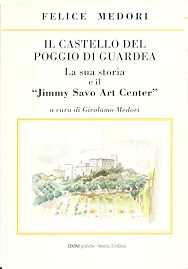 L'unico Libro sul "Jimmy Savo Art Center"
Cliccare sull'immagine del libro per aprire il pdf.
Il "Jimmy Savo Art Center" è stato a Guardea il precursore,
insieme al "Festival dei due Mondi" di Spoleto,
dell'incontro di culture internazionali.
In particolare italo-americana.
a sx - Genoveffa (moglie del barone) - Renzo Renzi - Stella Popoli (mamma di Valerio Venturini) - Pierluigi e Valerio Venturini
Temistocle Sperandei - .......... - un amerino amico di Renzi (1947-48) ↑ ↑ Stella Popoli (1966-1967) - a dx
Oscar Binnella, "Racconti campagnoli", 1992.
In questo libro un paragrafo è dedicato al Castello del Poggio di Guardea e alle impressioni
e poca conoscenza che gli abitanti avevano del "concittadino" Jimmy Savo e sua moglie Lina Farina.
Cliccare sull'immagine del libro per aprire il pdf.
Vita al castello del Poggio di Guardea negli anni '60.
*
Jacques Prévert, France's most popular poet of the 20th century, died this past spring, and there should be some memorial or festival of his work to mark not his death but his aliveness. What a remarkable person he was. Known in America principally as a pop lyricist ("Autumn Leaves" and "Ne Me Quitte Pas" in particular) and as screenwriter for the film classic Les Enfants du Paradis, he was truly a people's poet. His first collection of poems, Paroles, went into many different editions, eventually selling half a million copies; successive volumes also were enormously widespread, so much so that passers-by on the street would come up to him and quote his verses by way of greeting "Jacques"— they never thought of him as Monsieur Prévert. This casual exchange was fitting for a man who was on a first name basis with the language of his times: his work was colloquial, as much so as Brecht's, and as deceptively simple, A marvelous three-ring circus of a theater event could be made out of his triplefold writings: his political poetry of World War II and the resistance movement; his heart-breakingly spare love poetry, with its empathy for women; and his crazy wonderful sense and nonsense for children.
It was my happy fortune to meet him when I went to Paris for the first time in 1959. I was told that he spoke no English, and there was the additional handicap of my own limited French— entirely ungrammatical, present tense only, with sentence extenders (like hamburger filler) formidable, vraiment, and bien entendu. Ursula Vian, however, who lived next door to the Préverts in Montmartre, agreed to act as an intermediary. As it turned out, we often didn't need her support; Prévert was a splendid mimic, and his gestures and nonverbalizations were easier to understand than any amount of prose cross-overs. I fell in love with him at sight: a short, white-haired man with blue eyes, blunt expressive fingers, cigarette dangling from his lips like a corny Apache dancer. Wearing a blue sweater the color of his eyes, dapper gray flannels, and black leather moccasins newly polished, he looked like a sportive dandy. He reminded me of someone, and it nagged me till I realized it was not one other man, but two: the night club comedian Jimmy Savo as well as Chaplin. Humor and sentiment did not combine in him so much as seem to be homogenized, I thought.
*
Charlie Chaplin, who began his career on the stages of British music halls and American vaudeville theaters, was Cummings' nominee as the other great actor in America. Chaplin was also caricaturized by the artist in an ink sketch that is certainly Cummings' most well-known and most accomplished drawing.
A third stage comic admired by Cummings, though not placed by him in the class with Shargel and Chaplin, was Jimmy Savo, whom he portrayed both in his poem "so little he is" and in an oil painting, "Jimmy Savo Performing" (shown later).
Savo, an Italian-American born in New York City in 1896, advertised his talents at the age of 14 in Variety, claiming he could "juggle everything from a feather to an automobile." [4] Subsequently he was featured in vaudeville, [end page 50] in revues, on Broadway stages, and in Hollywood films as a dancer, singer, mime, and comic actor.
A review of "Once in a Blue Moon," a 1936 Hollywood movie, described the performance of "that exquisite and adorable clown Jimmy Savo" as "lovely, fragile and infinitely touching." [5] "The gleaming eyes, the shiny, bulging cheeks, the cheerful mouth, the battered derby, the clerical collar still represent the apotheosis of Jimmy," wrote Brooks Atkinson in a review [end page 51] of Savo's 1940 one-man show, Mum's the Word. [6] Burton Rascoe, reviewing the 1943 Broadway comedy What's Up, wrote that Savo had "the appeal of one's idea of a leprechaun . . . but also has an extraordinary sense of wacky satire in pantomime." Rascoe also wrote, "I've heard it said that Charlie Chaplin once stated that Mr. Savo is the greatest pantomime artist living." [7] If Chaplin actually made such a statement, he was perhaps being overly modest and generous; but certainly Cummings was not alone in is appreciation of the multifaceted comic genius of Jimmy Savo.
Filmography
| | | | | |
| --- | --- | --- | --- | --- |
| | | | Genre | Role |
| | 1927 | BRUCE BAIRNSFATHER | | Actor |
| | 1937 | IRVING CUMMINGS | Musical Comedy | Actor |
| | 1922 | SLIM SUMMERVILLE | Comedy | Actor |
| | 1935 | BEN HECHT | Comedy | Actor |
| | 1931 | LLOYD FRENCH | Comedy | Actor |
| | 1921 | SLIM SUMMERVILLE | Comedy | Actor |
| | 1921 | AL HERMAN | Comedy | Actor |
| | 1934 | EUGENE FRENKE | Comedy | Actor |
| | 1926 | FRANK O'CONNOR | Crime | Actor |
| | 1938 | FRANK McDONALD | Comedy Drama | Actor. |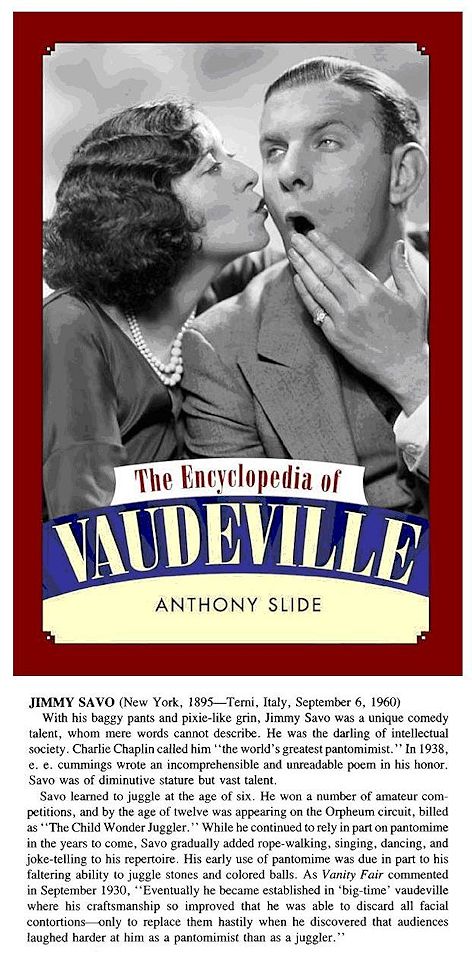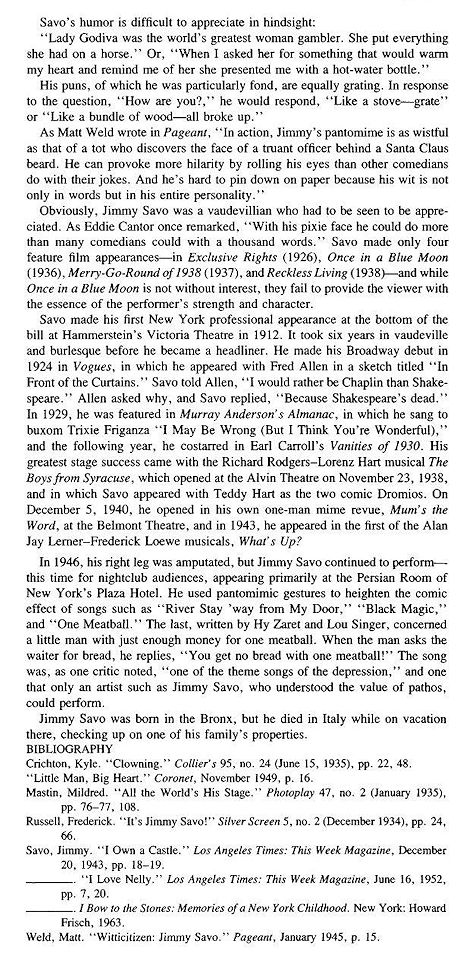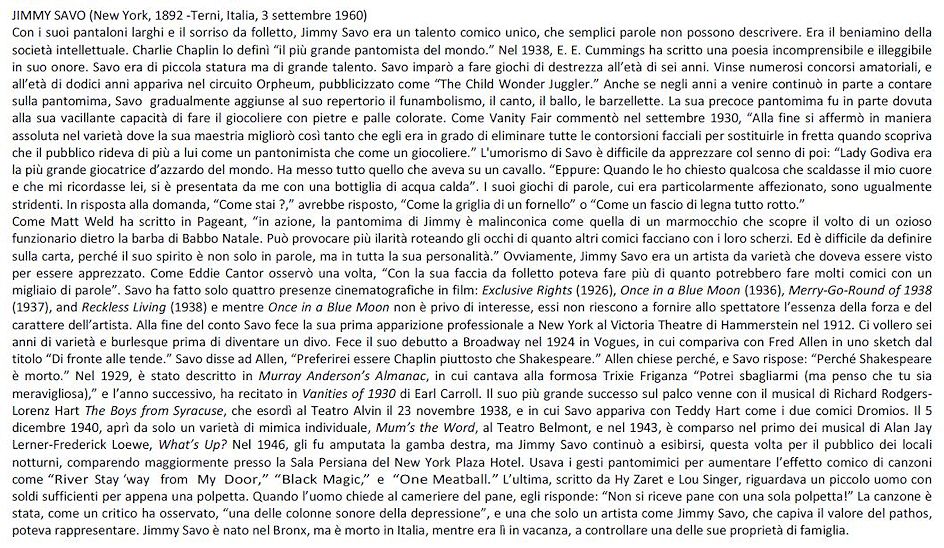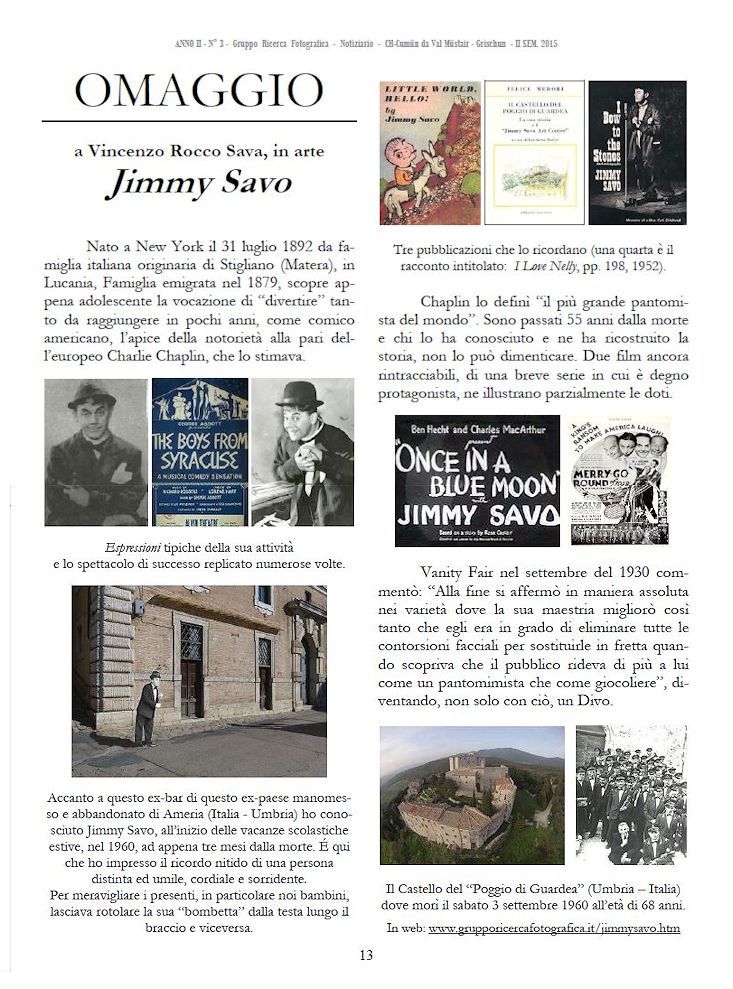 Franco Della Rosa - Notiziario GRF n. 3/2015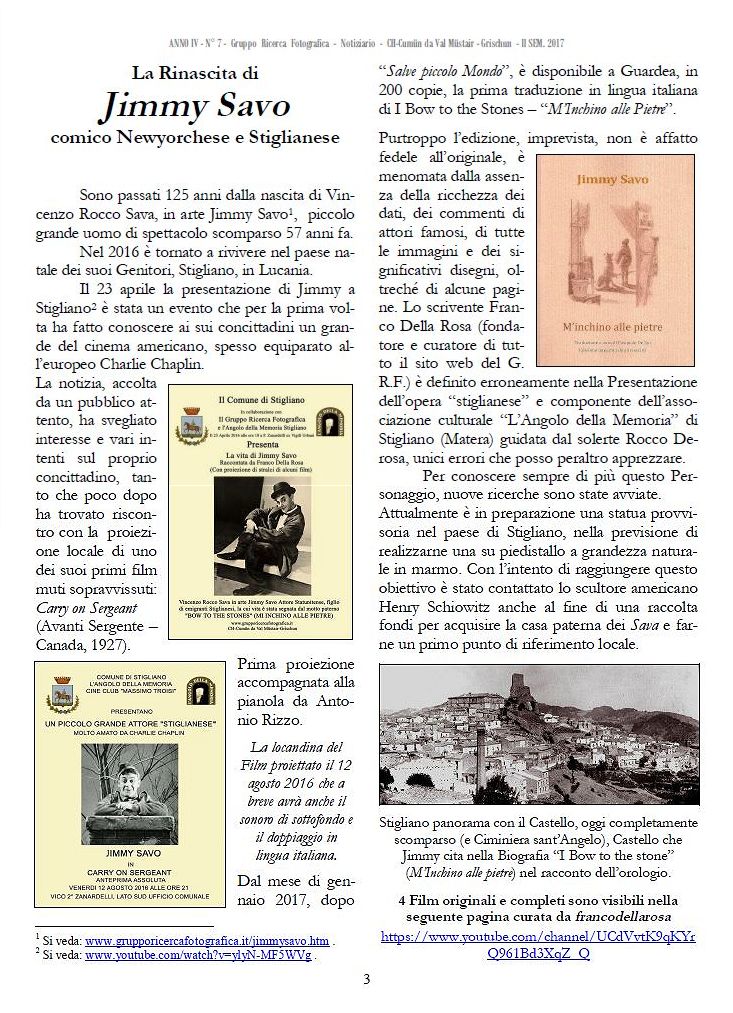 Franco Della Rosa - Notiziario GRF n. 7/2017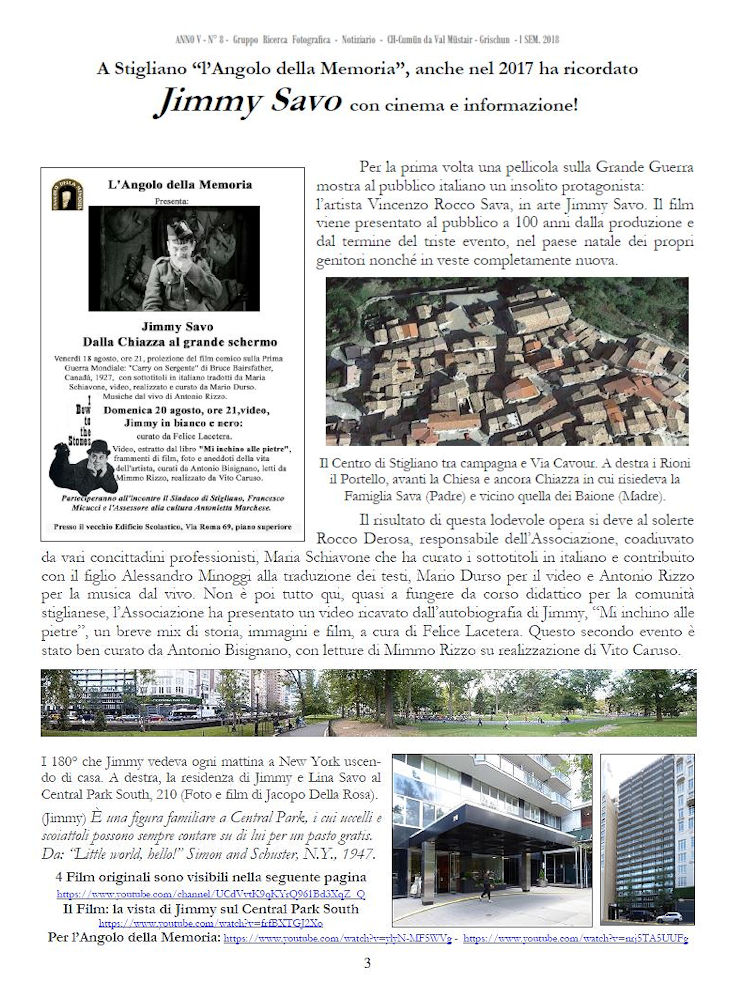 Franco Della Rosa - Notiziario GRF n. 9/2018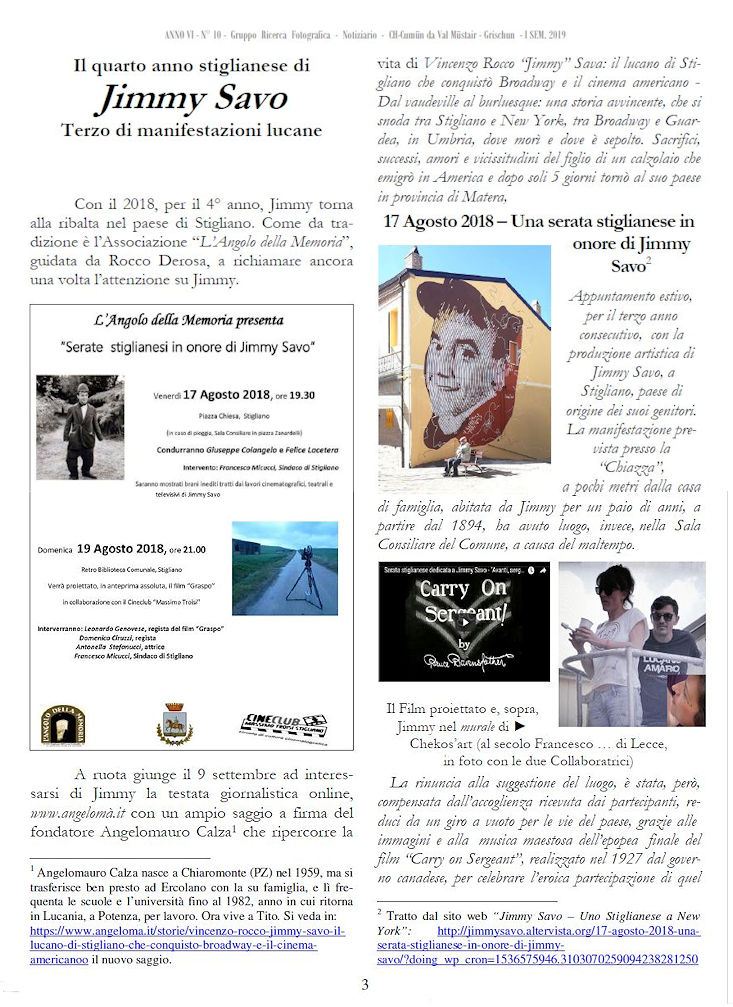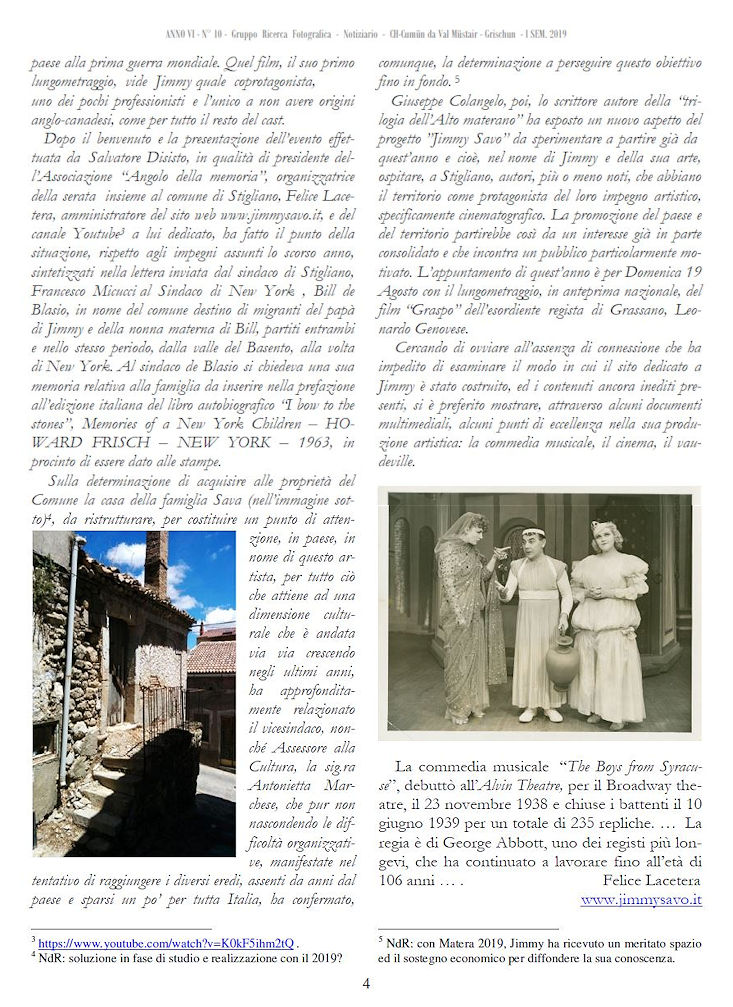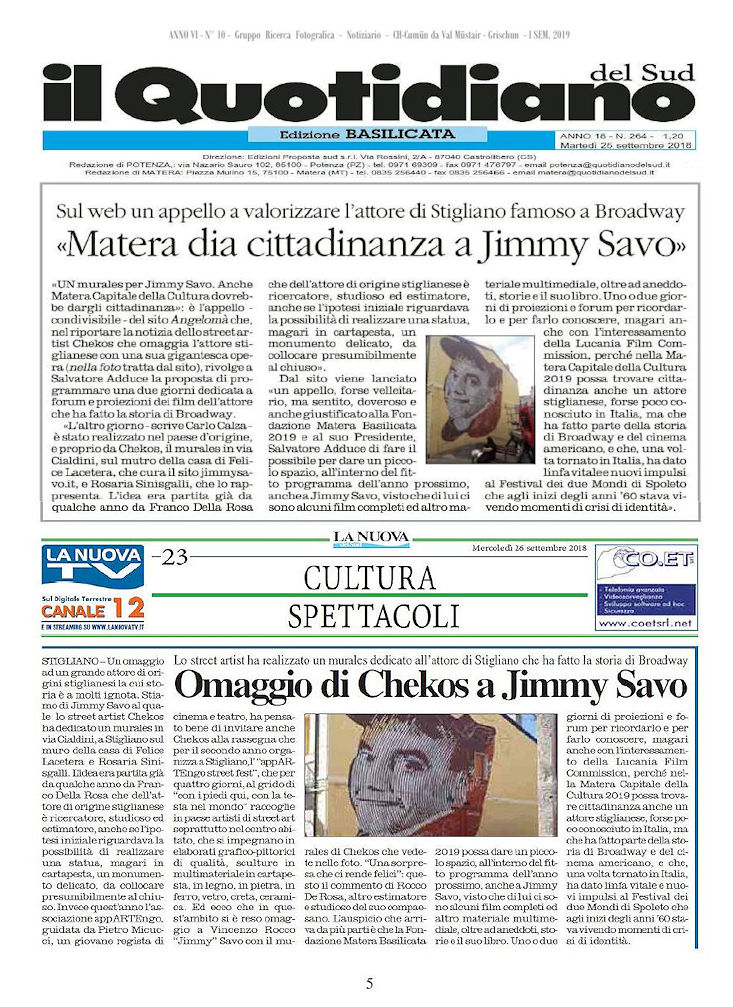 Franco Della Rosa - Notiziario GRF n. 10/2019
*
Contributo di Valerio e Caterina Venturini,
ricordi da Guardea-Amelia (Terni)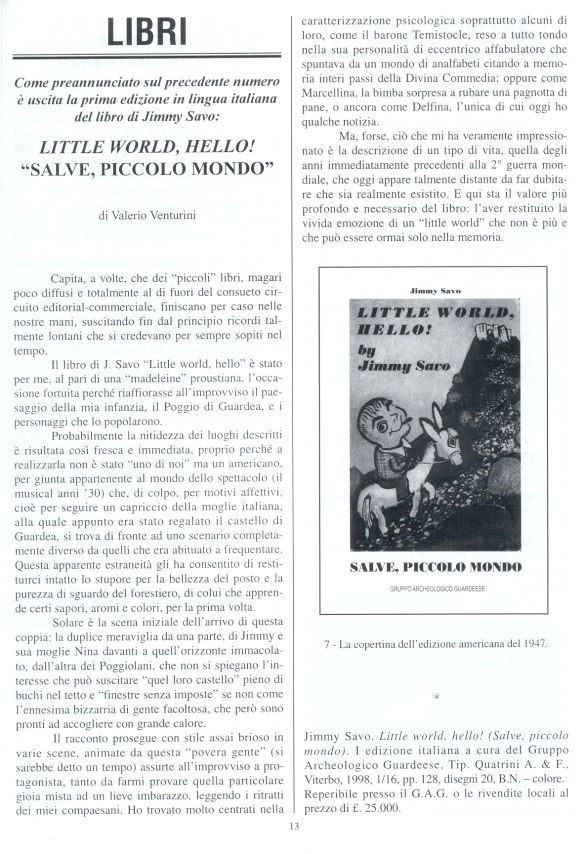 Da "Archeologia" n. 30 - II SEM 1998, P. 13.
Nel 1961 Gina Lollobrigida, insieme a Miranda Martino ed altri nomi celebri dello spettacolo
è stata ospite di Jimmy presso il Castello del Poggio di Guardea (Terni). Fonte Valerio Venturini.
*
Contributo d'informazioni di Pasquale de Zio
da Guardea (Terni)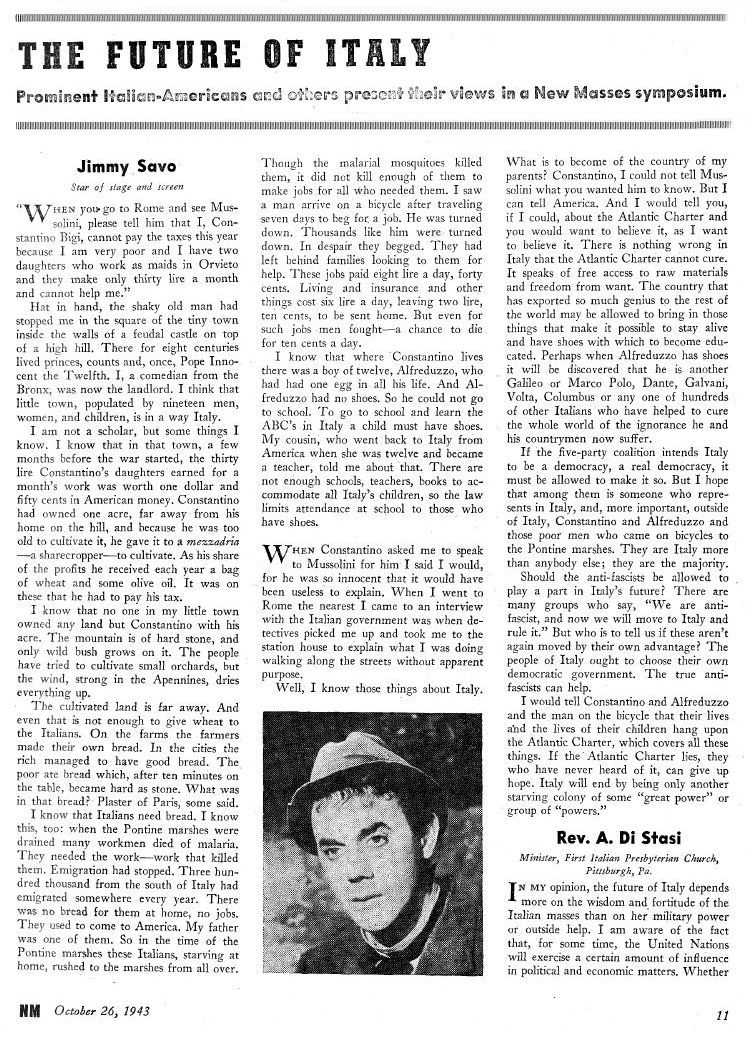 "New Masses" - 26 ottobre 1943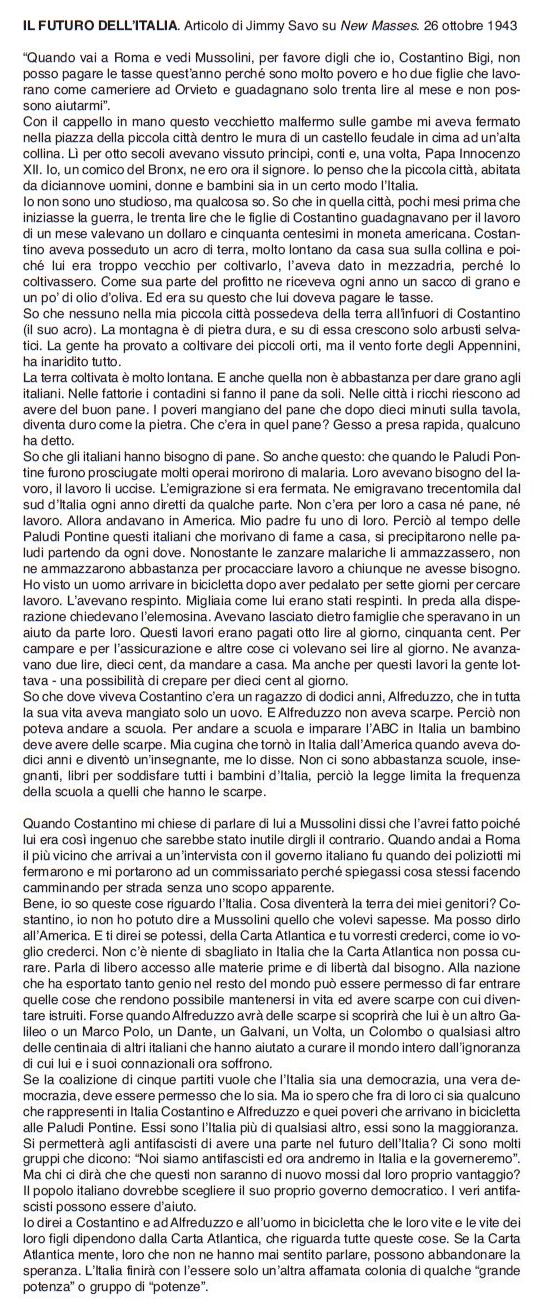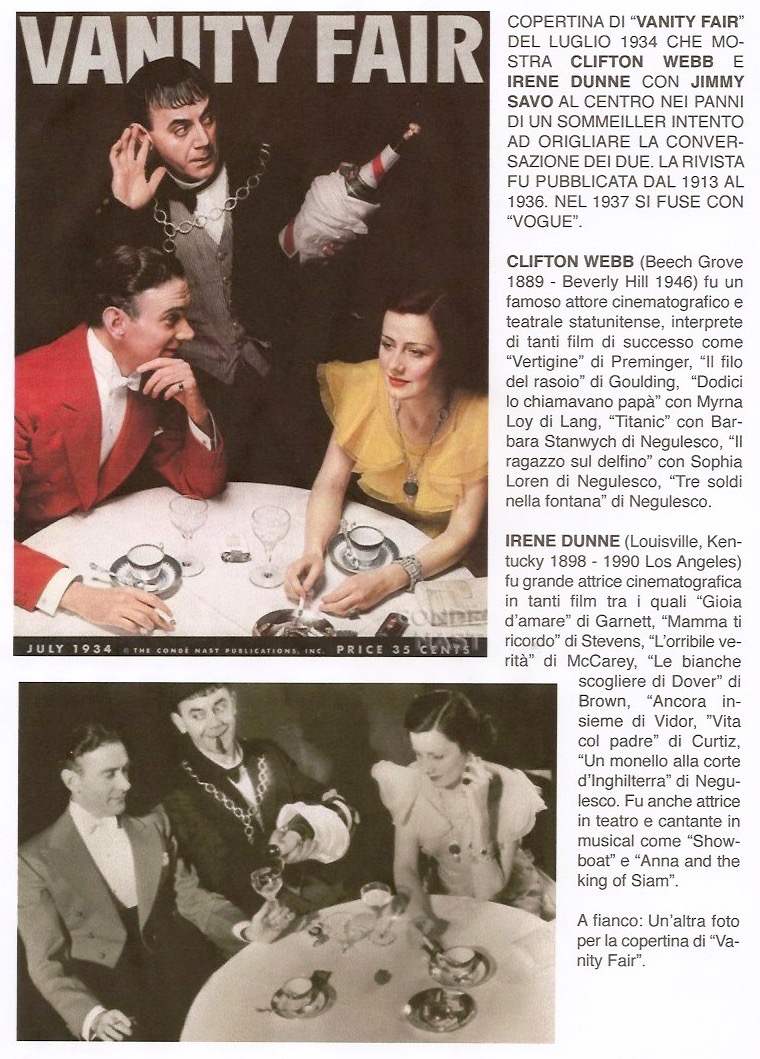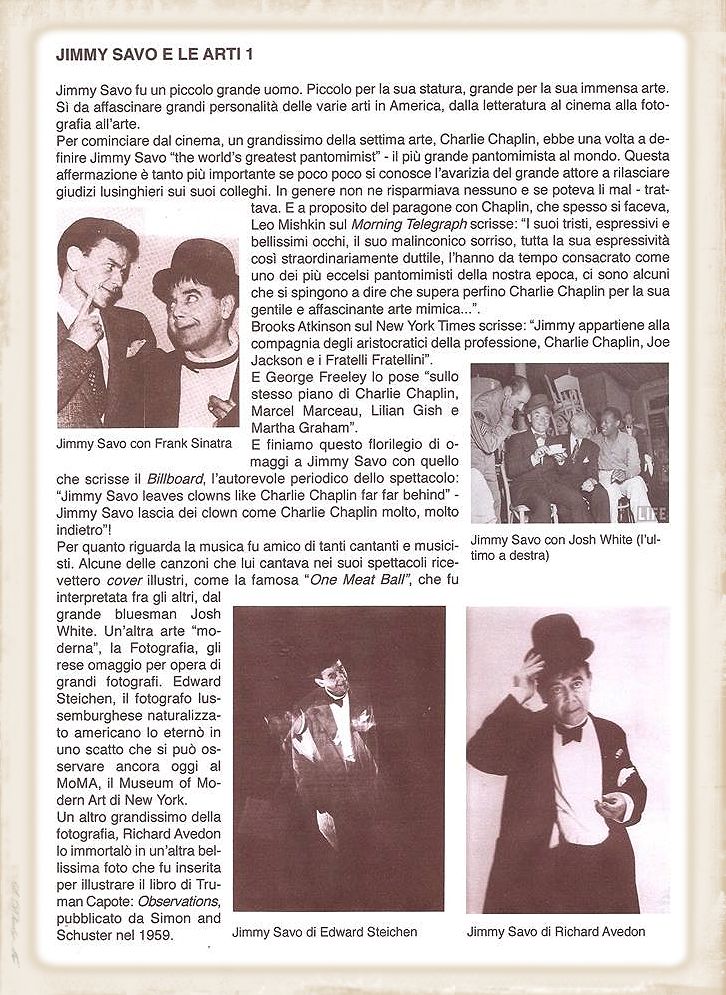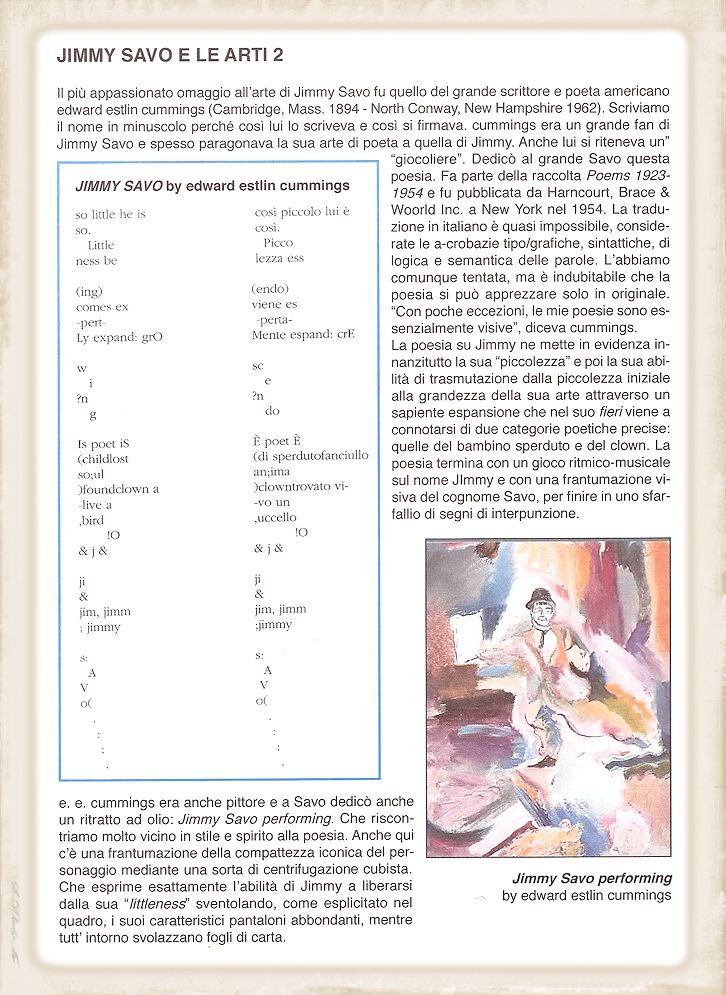 *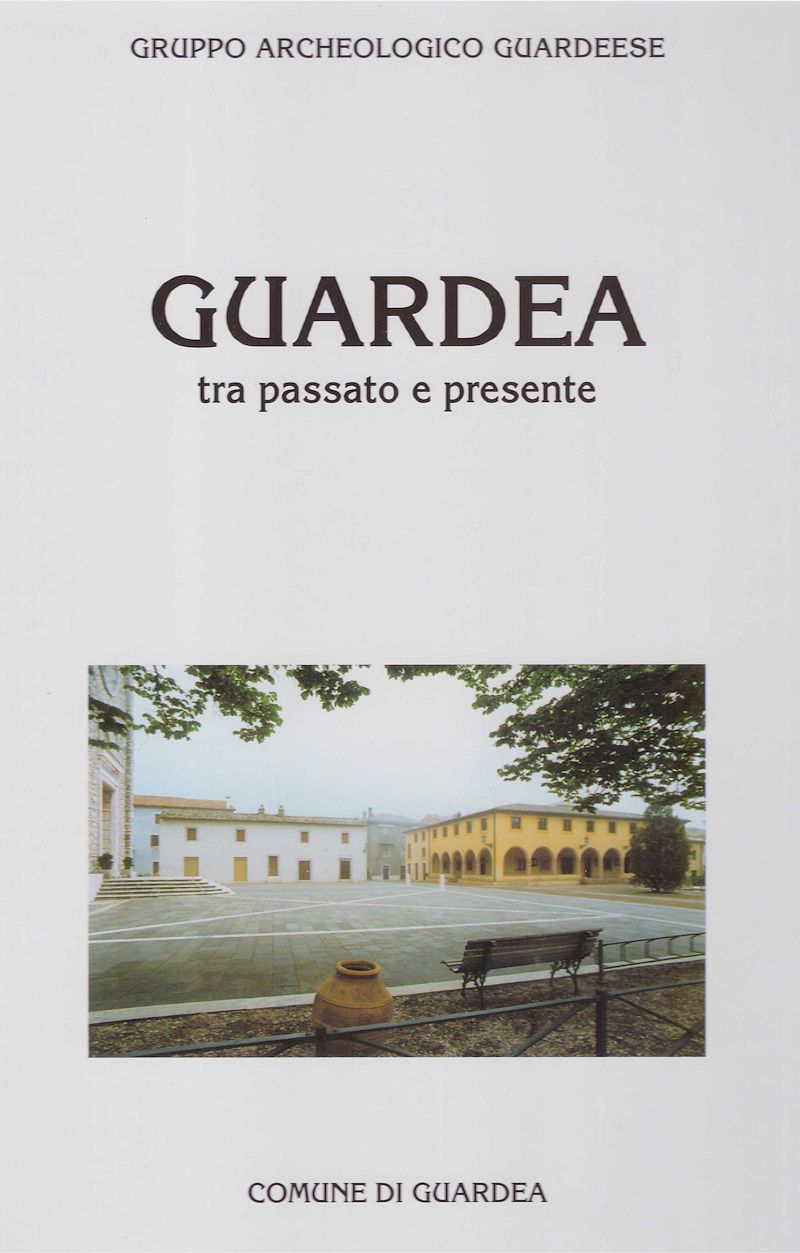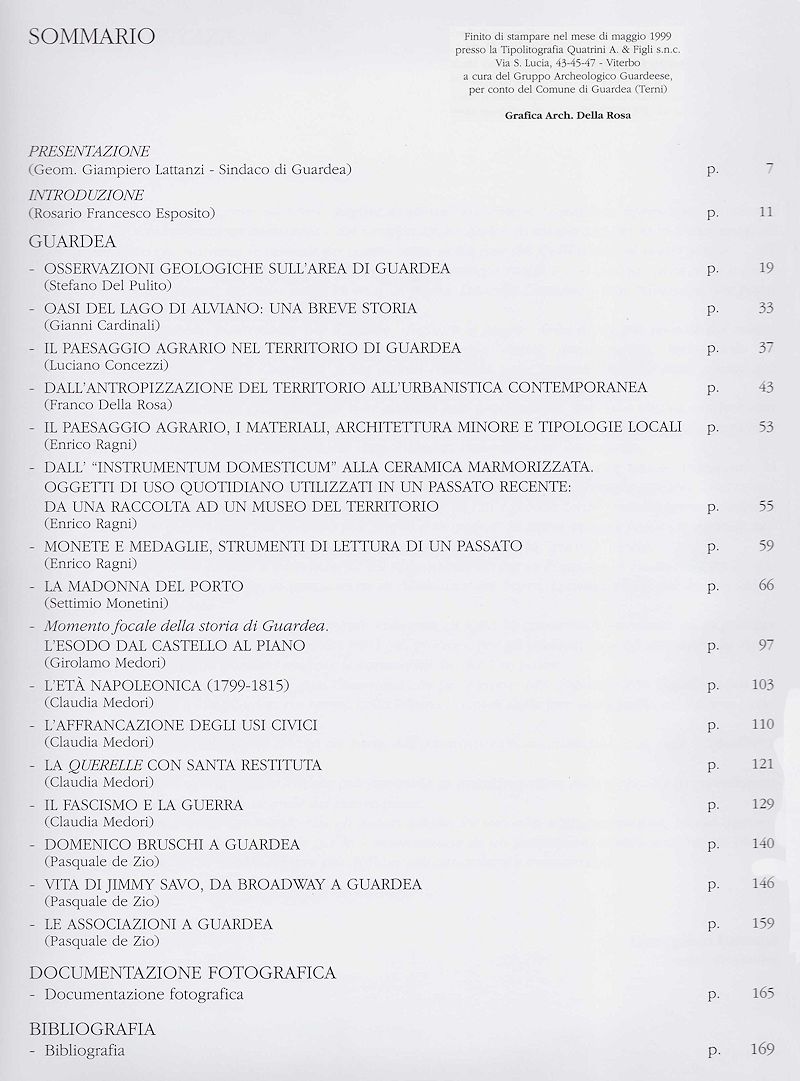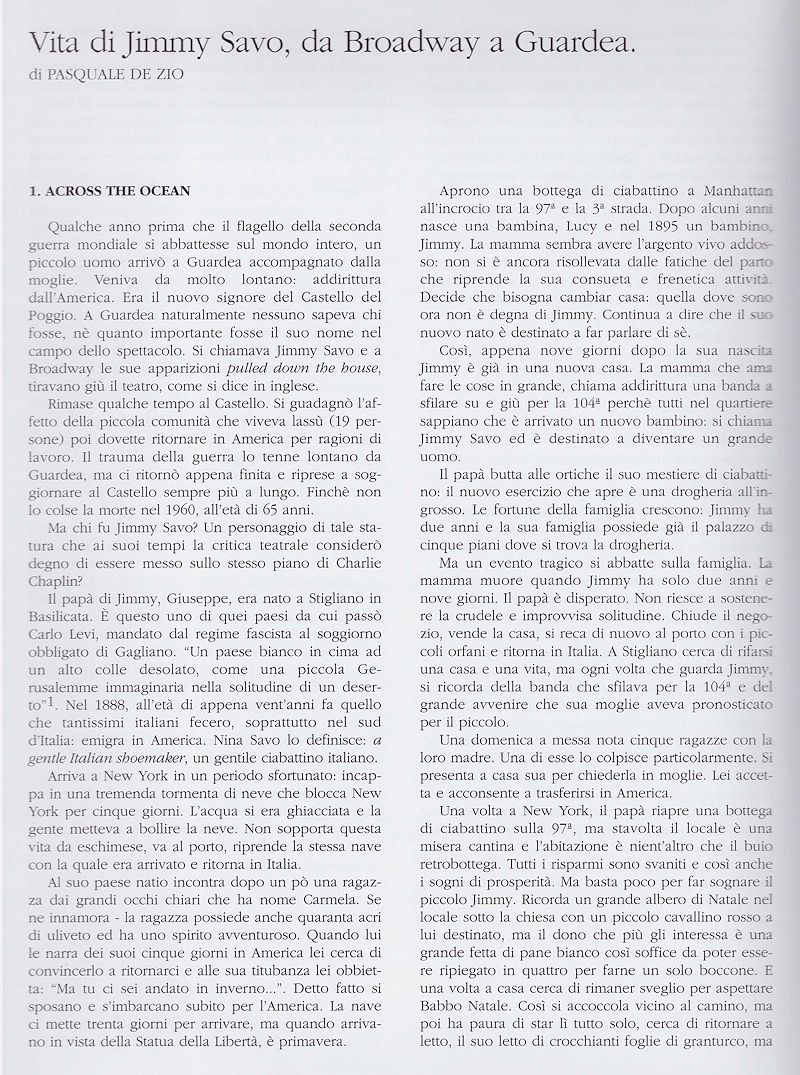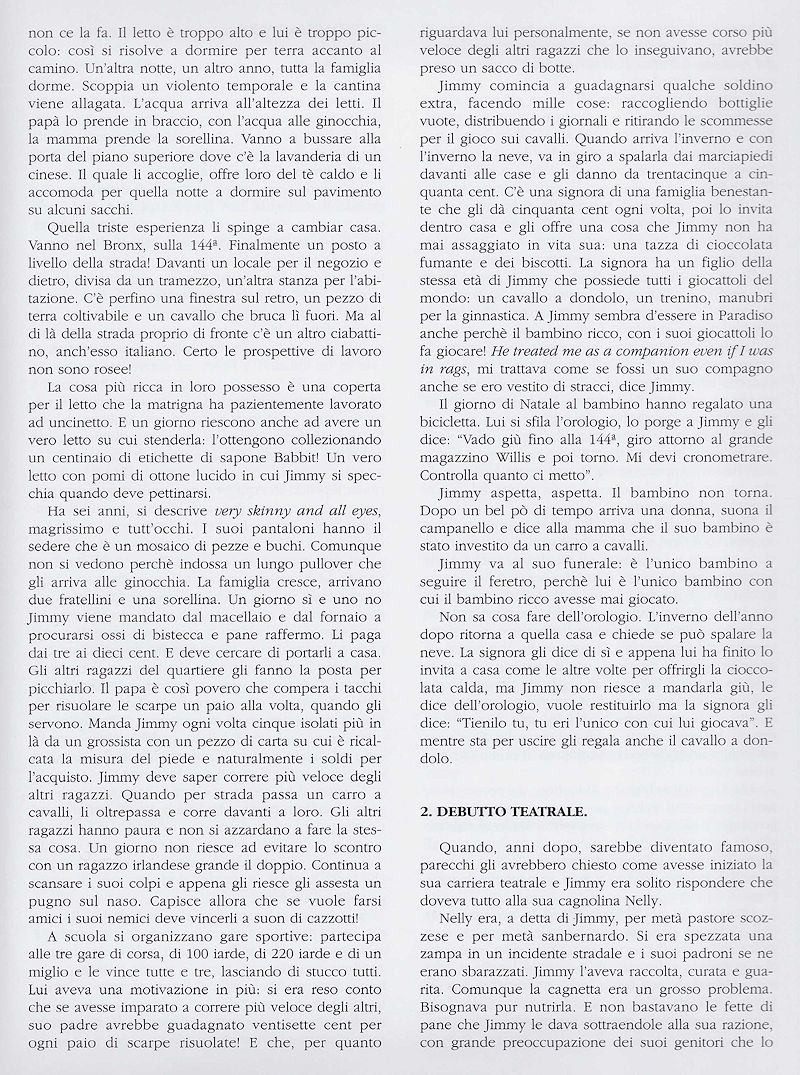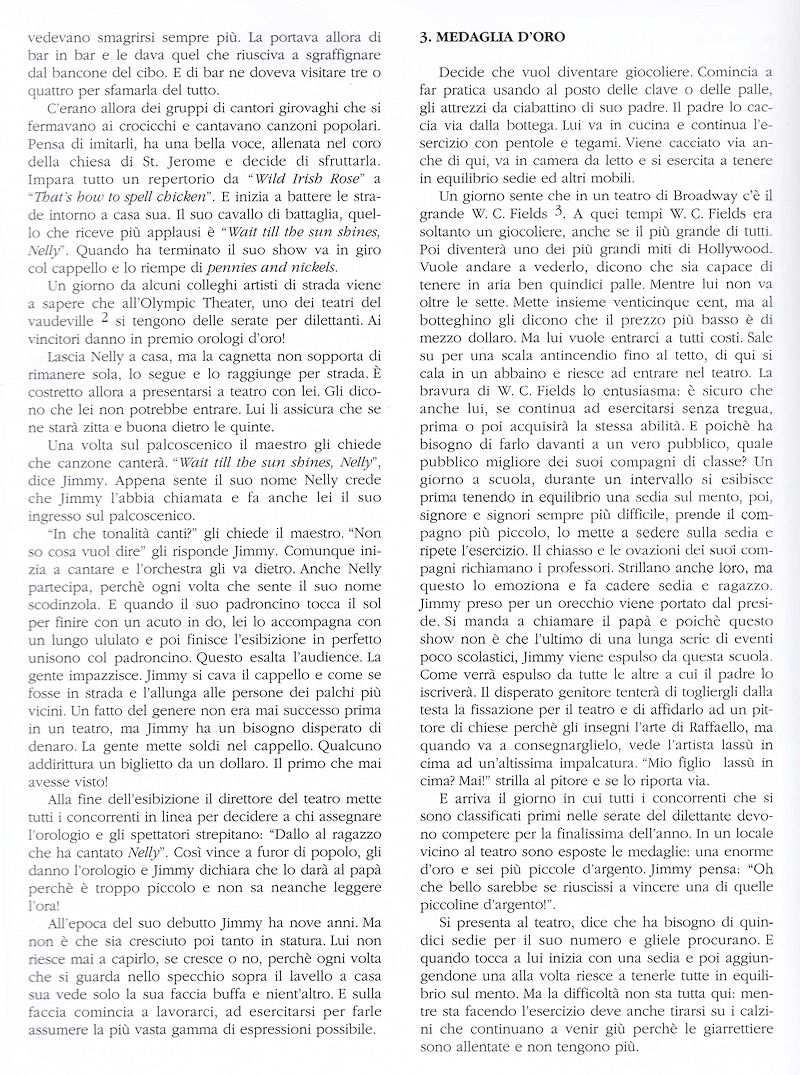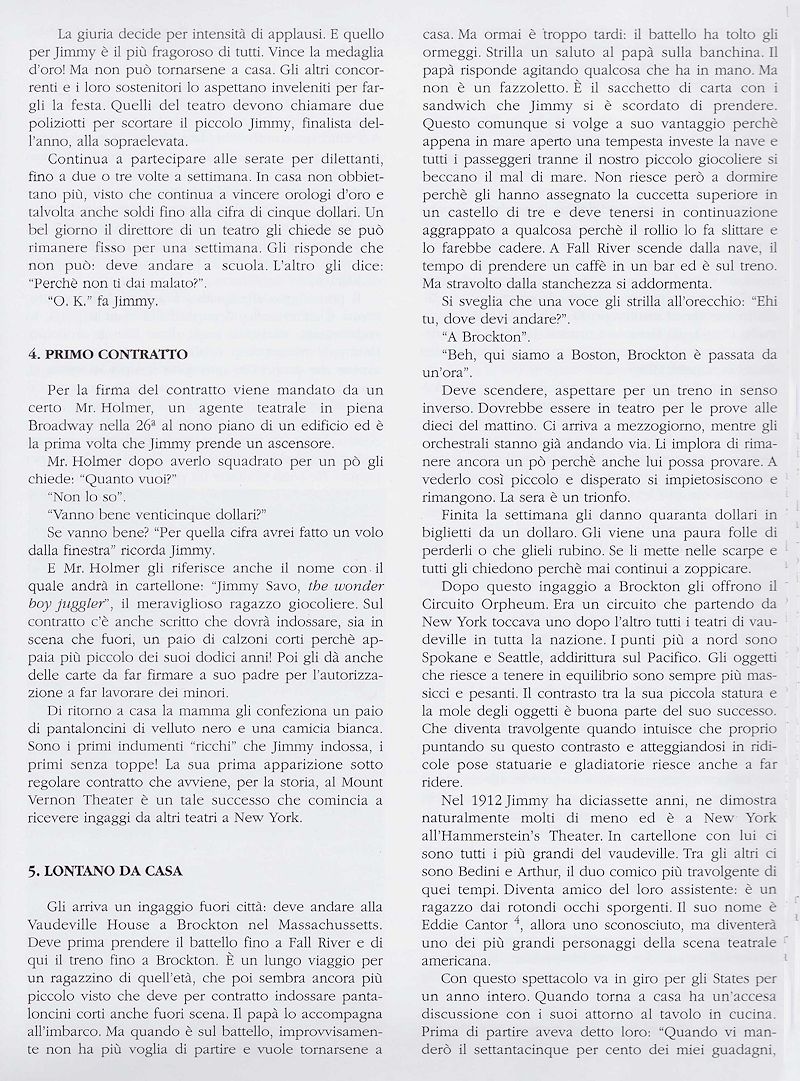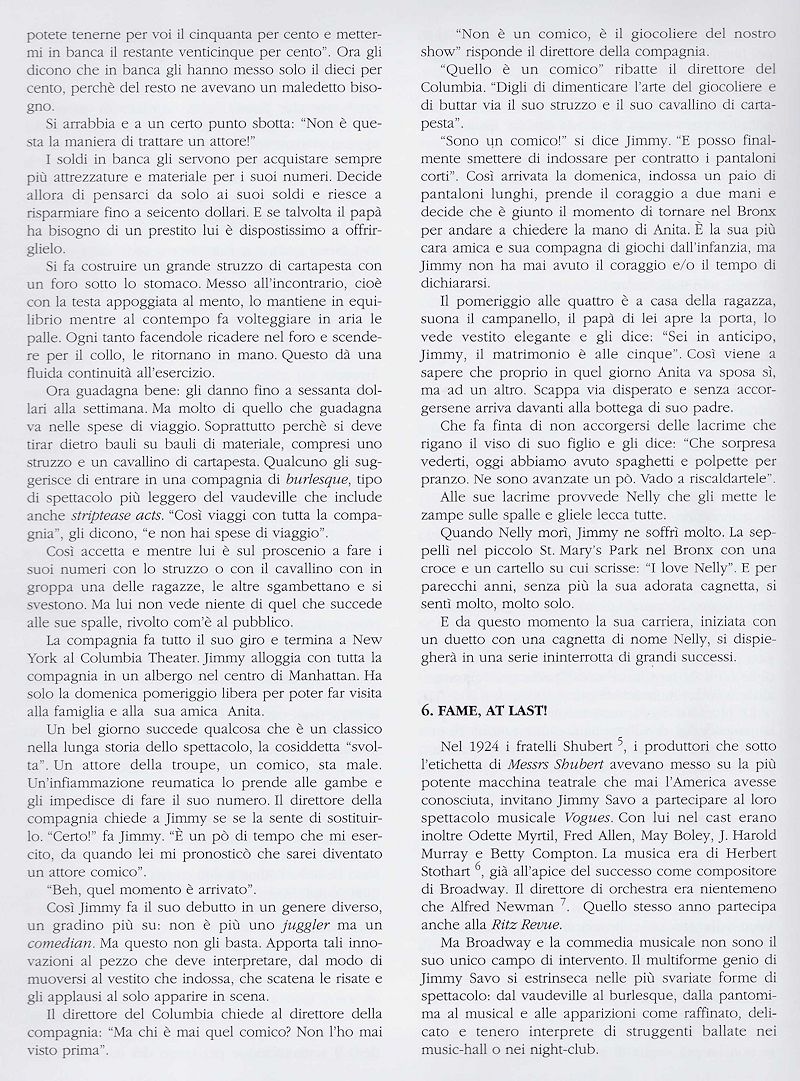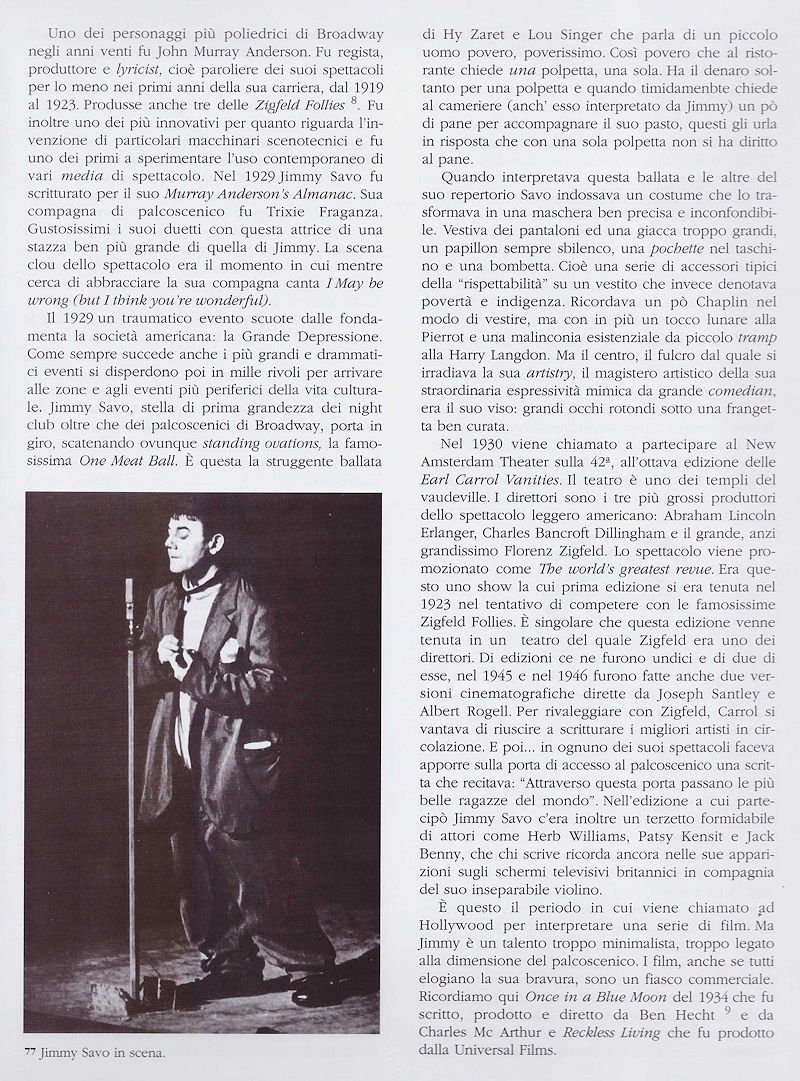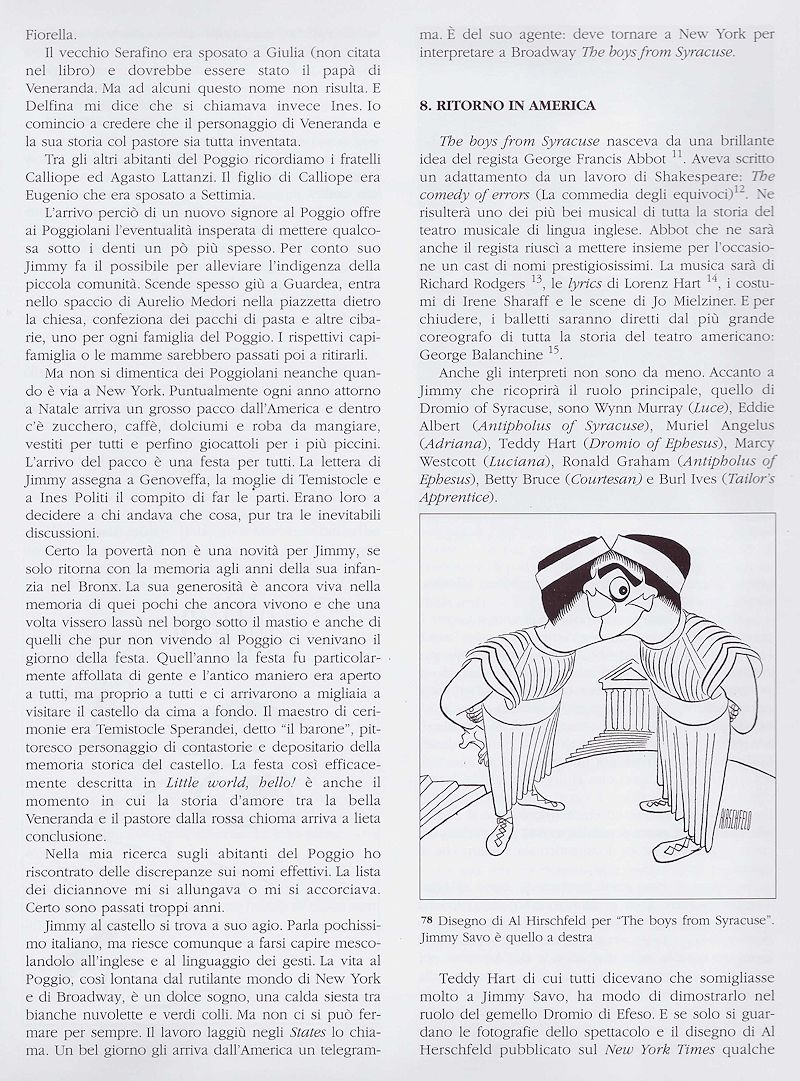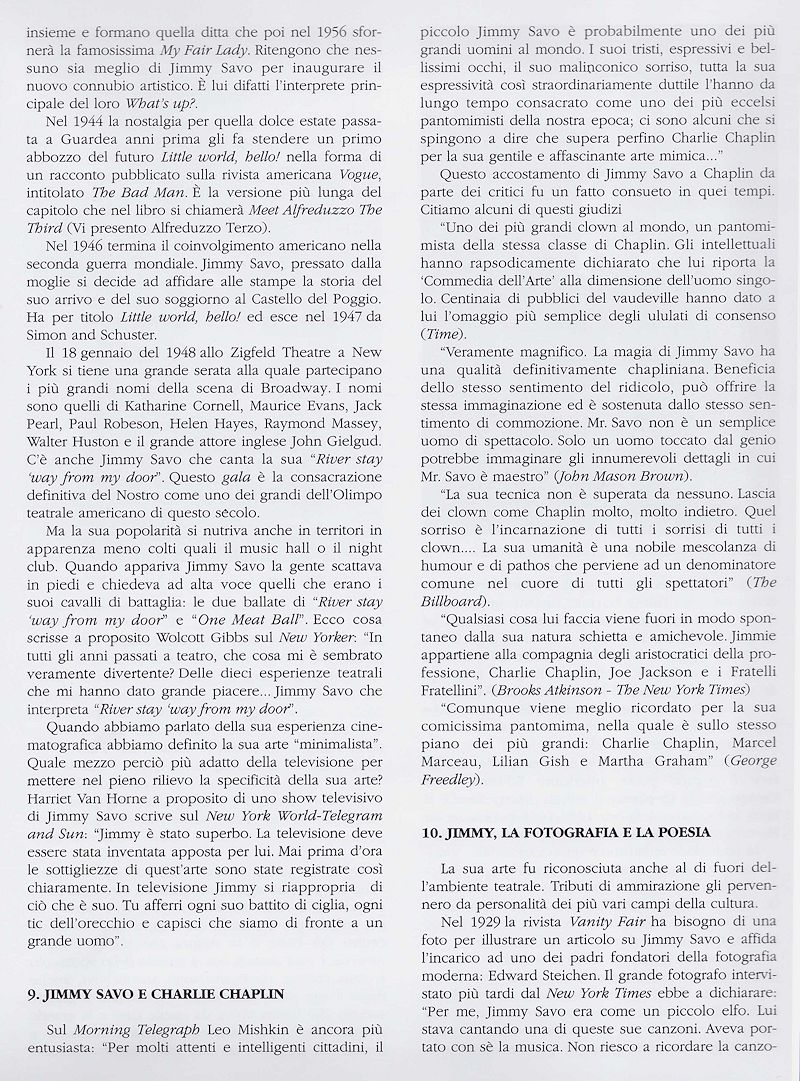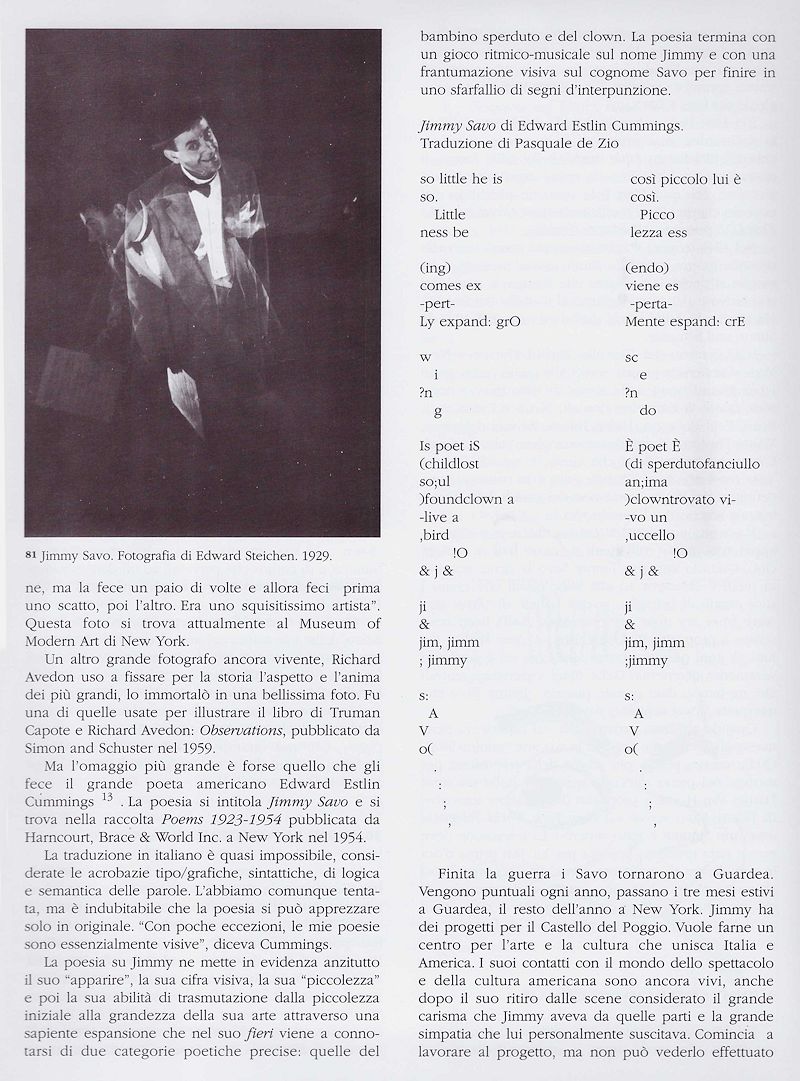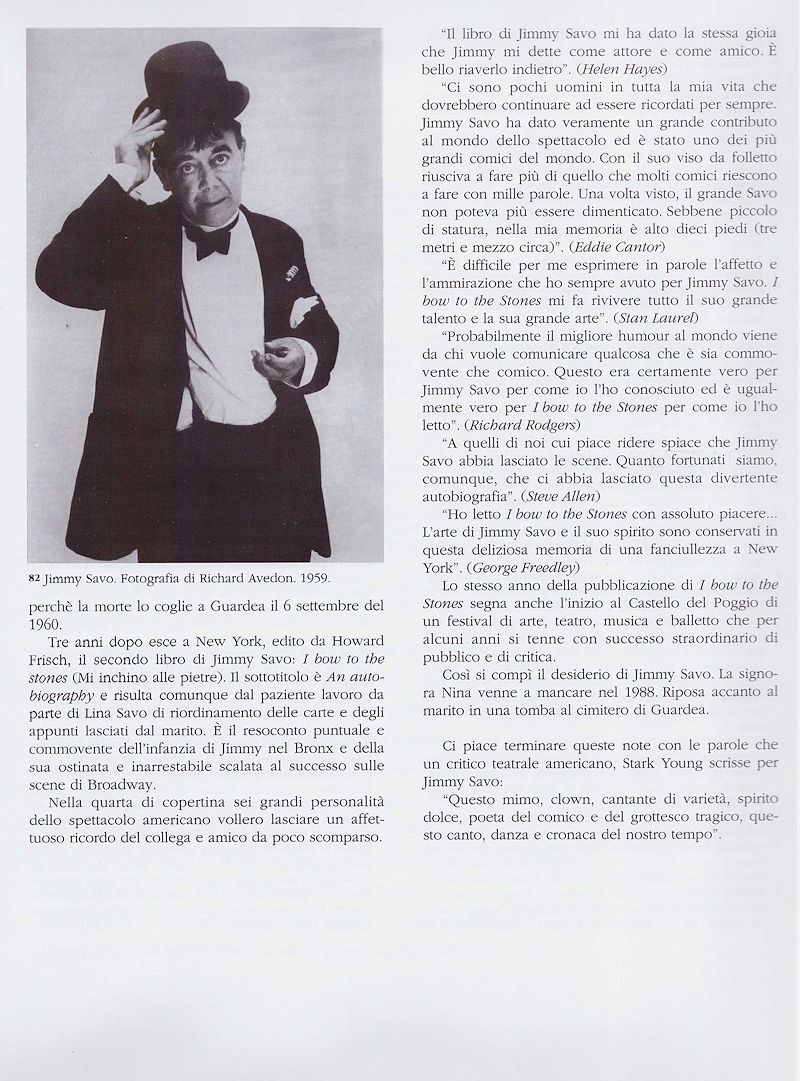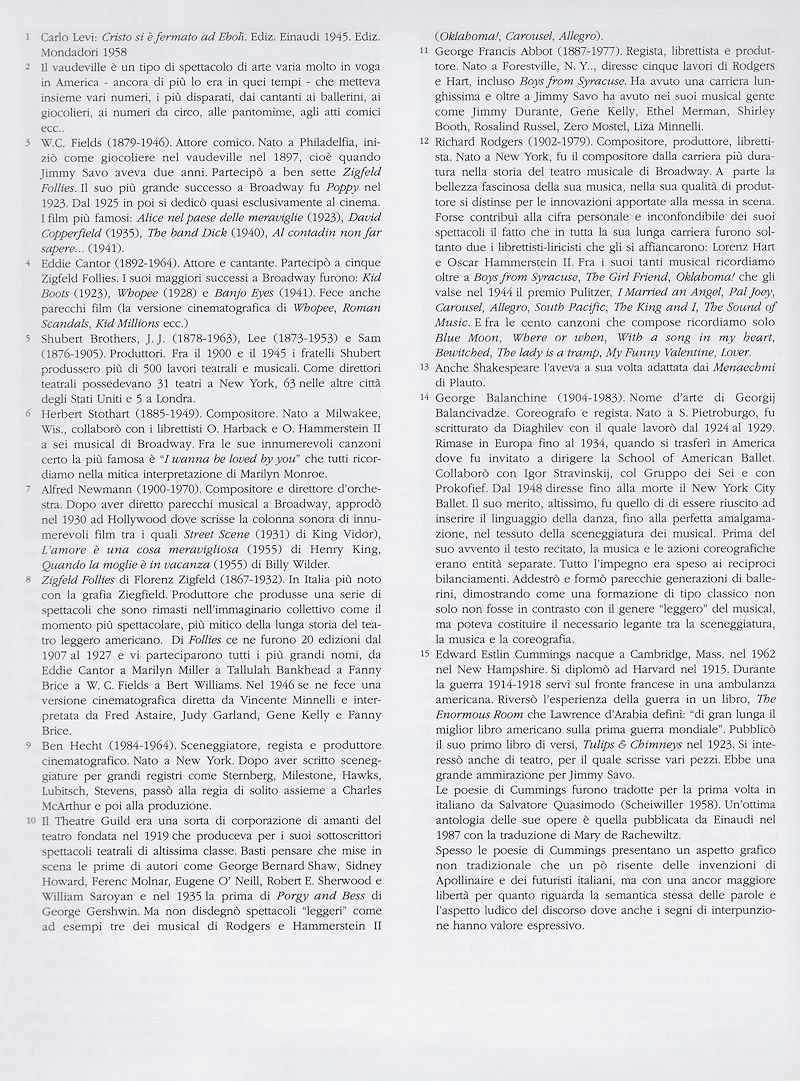 Si veda anche nel primo Volume per il Castello del Poggio di Guardea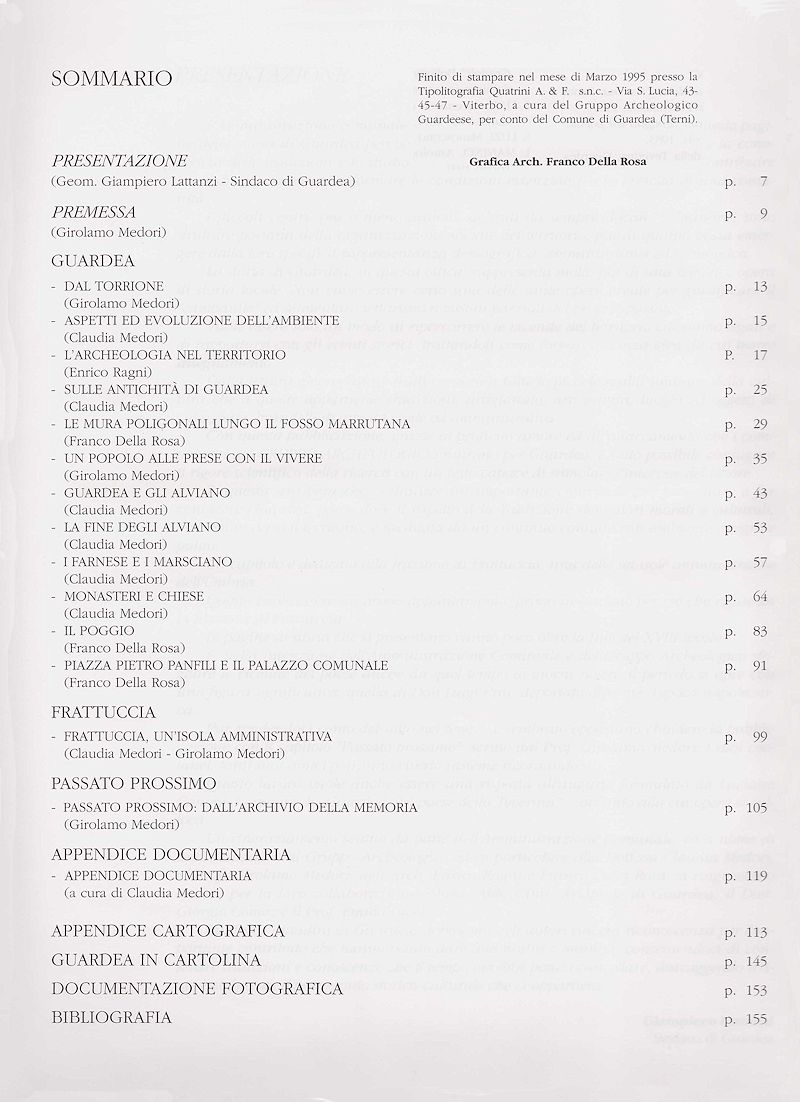 *
"I Bow to the Stones" - "M'Inchino alle Pietre"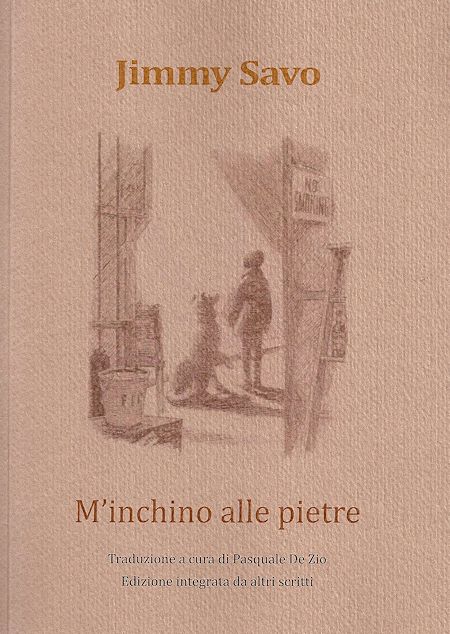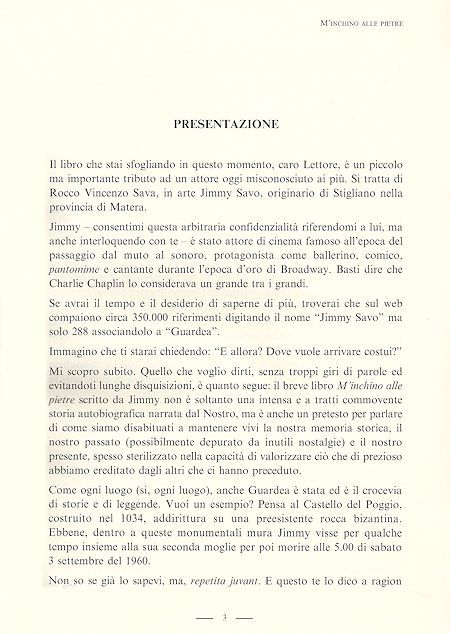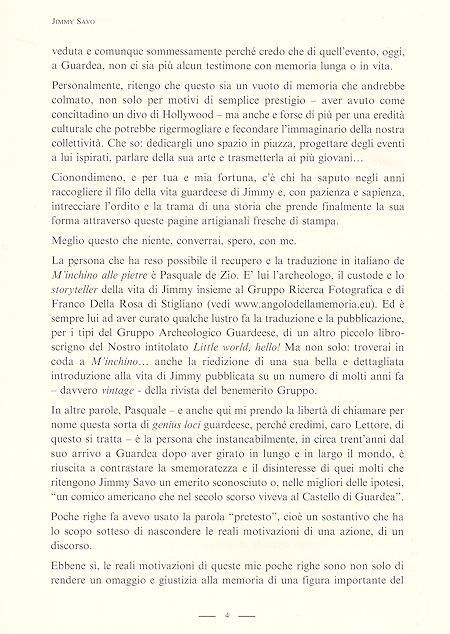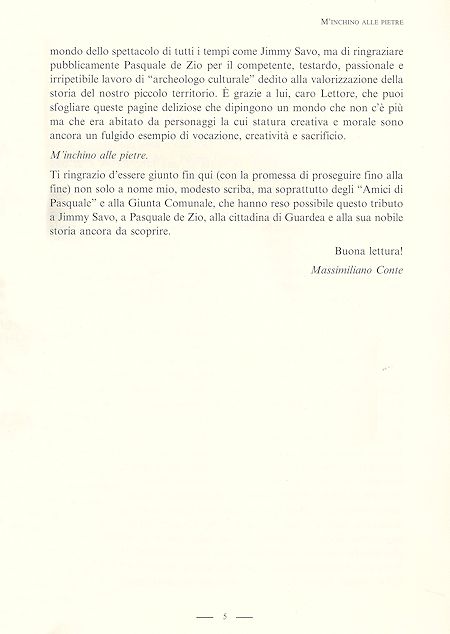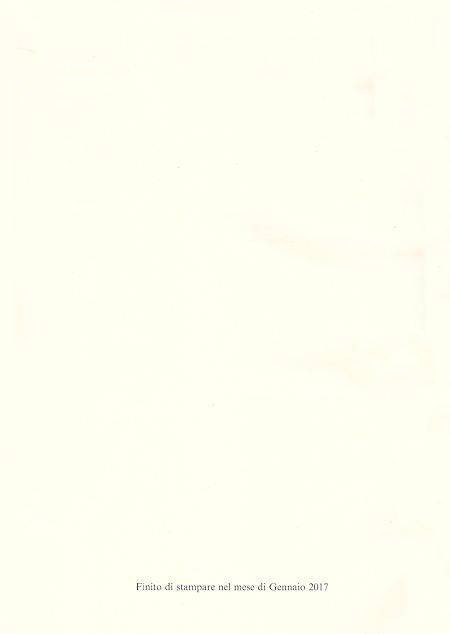 Dal mese di gennaio 2017 è disponibile, in tiratura di 200 copie,
la prima traduzione italiana di "I Bow to the Stones" – M'Inchino alle Pietre.
Purtroppo l'edizione, imprevista, non è affatto fedele all'originale,
è menomata dall'assenza della ricchezza dei dati, dei commenti di attori famosi,
di tutte le immagini e dei significativi disegni, oltreché di alcune pagine.
Lo scrivente Franco Della Rosa (fondatore e curatore di tutto il sito web del G.R.F.)
è definito erroneamente nella Presentazione "stiglianese"
e componente dell'associazione culturale "L'Angolo della Memoria" di Stigliano
(Matera) guidata dal solerte Rocco Derosa, cosa che comunque apprezzo molto.
*
Contributo d'informazioni di Frank Cullen
American Vaudeville Museum
Congratulations to Il sig, Franco Della Rosa for his efforts to celebrate the skill and humanity
of the great comedy mime and juggler Jimmy Savo.
The diminutive Savo was one of the few truly great Broadway stage comedians
(along with Beatrice Lillie, Bobby Clark, Bert Lahr, Ed Wynn, Charlotte Greenwood,
Victor Moore and Olsen & Johnson). The cinematic record of Jimmy Savo's talent is elusive.
He made few films, only one of which is readily available on dvd: Merry-Go-Round
of 1938 that co-starred Bert Lahr, Mischa Auer and Alice Brady. But thanks to Frank Della Rosa,
there are excerpts of Savo performing in other films, recordings and a TV show.
Frank Cullen
Co-founder: American Vaudeville Museum
Co-author: Vaudeville, Old & New: An Encyclopedia of Variety Performers in America.
August 31, 2017
*
Hello Mr Della Rosa,
Wonderful. Jimmy Savo was one of my favorites,
so I am delighted that you are attempting a biography.
I believe you have read both of Mr Savo's books. He does not write of his career,
and very few people did write about his life and career.
I did my best to list his career in Vaudeville,
Old & New: my encyclopedia of variety performers in America.
Please let me know if you locate any other Savo films.
If you find copies, I shall gladly pay you for a copy.
Good news. I had been waiting for a dvd copy of the 1952 television show,
All Star Revue of 1952. that Jimmy Savo performed on.
I had an old tape copy, but hoped that I could get a newer and technically better copy.
That arrived in the postal mail today, as did the dvd and cards that you graciously sent.
I shall try to watch and copy the All Star Revue this weekend and send that to you next week.

Frank Cullen, American Vaudeville Museum
March 18, 2016
*
Salve Signor Della Rosa,
Meraviglioso. Jimmy Savo è stato uno dei miei preferiti,
quindi sono contento che lei stia tentando una biografia.
Credo che lei abbia letto entrambi i libri del Sig Savo. Lui non scrive della sua carriera,
e pochissime persone hanno scritto sulla sua vita e carriera.
Ho fatto del mio meglio per elencare la sua carriera nel vaudeville,
Old & New: la mia enciclopedia di artisti di varietà in America.
Per favore mi faccia sapere se si individua qualsiasi altro film di Savo.
Se trovate copie, sarò lieto di pagare per una copia.
Buone notizie. Ero in attesa di una copia del dvd dello show televisivo 1952,
All Star Revue del 1952, cui Jimmy Savo partecipò.
Avevo una vecchia copia del nastro, ma speravo di poter ottenere
una copia più recente e tecnicamente migliore.
Questa è arrivata nella posta di oggi, come ha fatto il dvd e le carte che mi ha gentilmente inviato.
Cercherò di guardare e copiare l'All Star Revue questo fine settimana
e inviarlo la prossima settimana.

Frank Cullen, Museo americano del Vaudeville
18 Marzo 2016
*
Contributo d'informazioni di Rocco Derosa
da Stigliano (Matera)
Information supllied by Rocco Derosa
from Stigliano (Matera)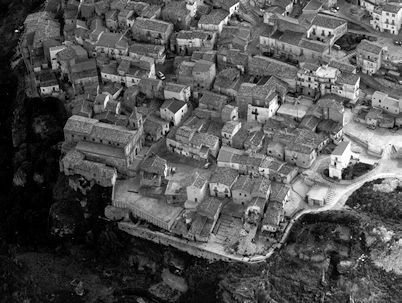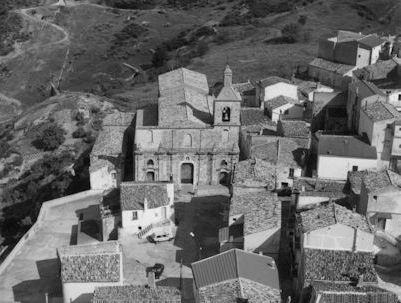 L'antico Centro di Stigliano delimitato oggi dalla campagna e da Via Cavour
in cui risiedeva la Famiglia Sava e quella dei Baione.
Da sinistra i Rioni il Portello, dietro la Chiesa, Chiesa,
avanti la Chiesa e Chiazza. Viste degli anni '80.
Stigliano old down-town is bordered today by the campaign and by Cavour street,
where both the families Sava and Baione resided.
From the left side: the districts Portello, behind the Church, the Church,
in front of the Church and Chiazza neighbourhood. Views of the '80s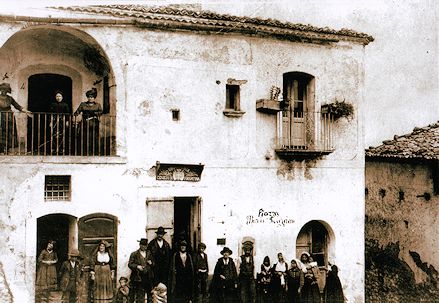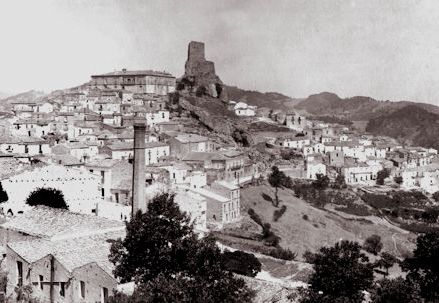 Piazza Mario Pagano e panorama con il Castello (Ciminiera sant'Angelo), oggi completamente scomparso,
che Jimmy cita nella Biografia "I bow to the stone" (M'inchino alle pietre) nel racconto dell'orologio.
Mario Pagano square and panorama with the castle (Ciminiera sant'Angelo), today completely lost,
mentioned by Jimmy in his Biography "I bow to the stone" in the clock tale.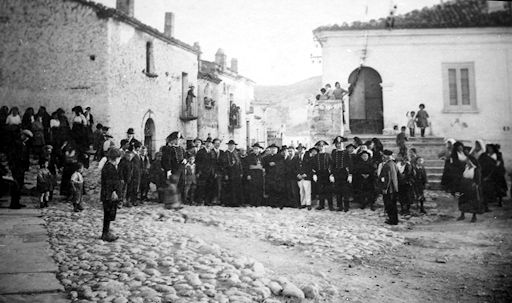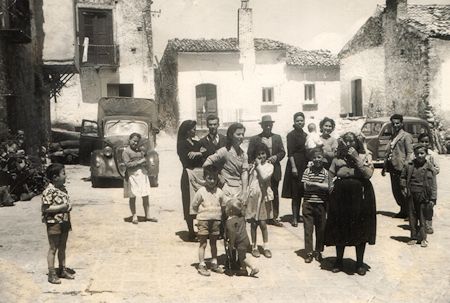 Stigliano villa all'inizio del '900 e Rione Chiazza alla fine degli anni '50.
Stigliano's villa at the beginning of the 20th century and Chiazza neighbourhood in the late '50s.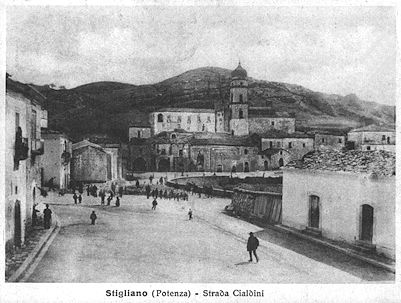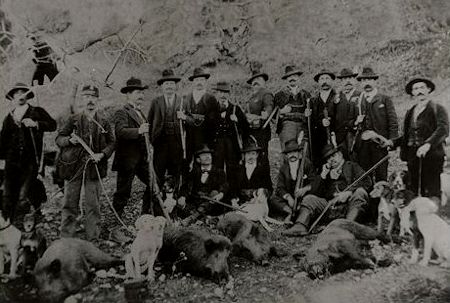 Chiesa di sant'Antonio e il comune sulla fine dell'800 e caccia al cinghiale a Stigliano
(l'ultimo cacciatore a destra è forse il padre di Jimmy, Giuseppe, in base a quanto racconta Jimmy nella Biografia).
Church of St. Anthony and the town hall at the end of the 19th century, wild boar hunting in Stigliano
(The last hunter on the right side is perhaps Jimmy's father, Giuseppe,
according to on what Jimmy tells the Biography).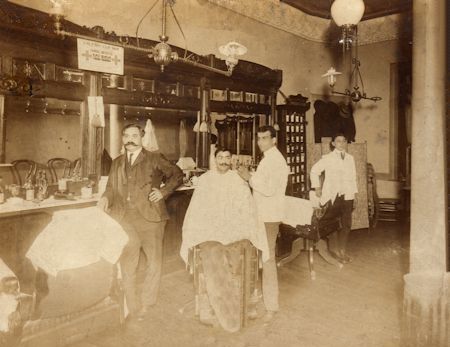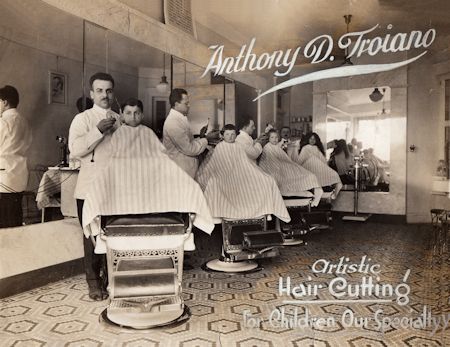 Il barbiere e il negozio newyorchese prima, e dopo l'ammodernamento gestito con il figlio.
Come si desume dal soprannome di "cavolfiore" riportato da Jimmy nella Biografia al
confronto con il ricordo che si ha del Titolare a Stigliano: "cavolo a cappuccio" e "capo a fiore".
The barber and the New York shop, before and after the renovation, managed with his son.
As it is derived from the nickname "cauliflower" reported by Jimmy in Biography al
Compared with the memory of the Owner in Stigliano: "cape cabbage" and "flower cap".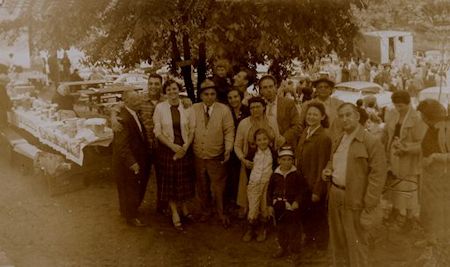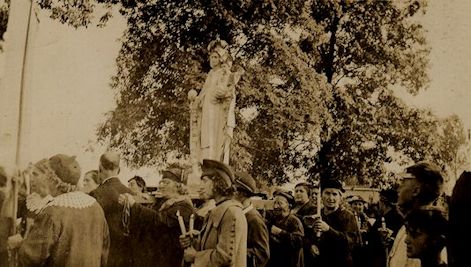 La Comunità Stiglianese durante la festa di santa Maria rievocata a New York.
The community of Stigliano during Saint Mary's feast celebrated in New York.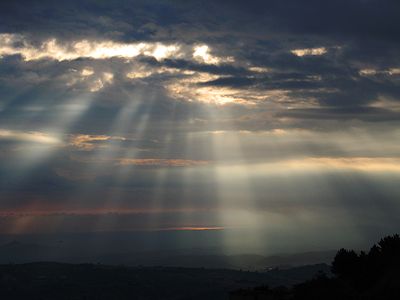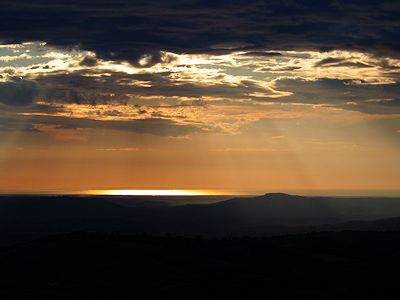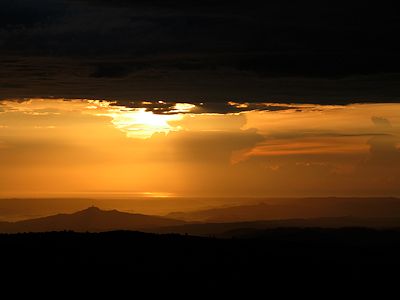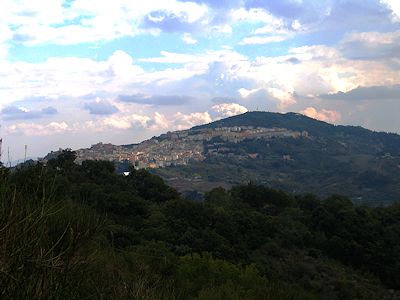 Panorami odierni da Stigliano verso il Mare Jonio e del Paese da ovest.
La ricerca di documenti, approfondimenti, valutazioni e immagini si deve
al Sig. Rocco Derosa (ottobre 2014 - febbraio 2015).
Today's views from Stigliano on the Jonio Sea and of the village itself from the west.
Mr Rocco Derosa (October 2014 - February 2015) researched the documents, information, images.
(1) Dai registri di battesimo della Chiesa Madre di Stigliano Santa Maria Assunta:
il 31 ottobre 1859 il Sacerdote Don Giuseppe Tancredi battezza Giuseppe Maria Sava nato il 30 agosto 1859,
(morto a New York il 27 gennaio 1927), i Padrini furono Anna Rosa Sava
il 24 Giugno 1865 il Sacerdote Don Rocco Basile, battezza Carmela Baione figlia di Giuseppe e di Caterina Bevilacqua
nata il 19 giugno (deceduta a New York il 17 giugno 1894),
i Padrini furono Don Vito Melfi e Donna Maria Salerno.
Matrimonio tra Giuseppe e Carmela:
Il 25 febbraio 1886 Sava Giuseppe Maria di anni 27 professione calzolaio sposa Baione Carmela donna di casa di anni 21
I figli sono nati e battezzati in America e furono registrati anche nei registri dei battesimo di Santa Maria Assunta.
La prima figlia, Lucia è nata a Stigliano il 20 dicembre 1886 e morta tre giorni dopo;
il 26 Agosto 1890 il Sacerdote Porrazzo Pjm (?), in New York battezza la seconda figlia nata il 26 luglio, Lucia,
figlia di Giuseppe Sava e Carmela Baione, i Padrini furono Gennaro Matarrese e Caterina Cacciatore;
il 29 ottobre 1892 il Sacerdote Tafini O.F.M. battezza Vincenzo Rocco Sava (JIMMY) nato il 31 luglio da Giuseppe e Carmela Baione,
i Padrini Furono Gennaro Matarrese e Maddalena Petrocelli.
Giuseppe pochi anni dopo rimane vedovo e rientra a Stigliano con i due figli Lucia e Vincenzo Rocco.
Il 6 Dicembre del 1894 all'età di anni 36, sposa in seconde nozze nella Chiesa Madre di Stigliano
la Signorina Maria Rosa Rago di anni 22 nata a Pietrapertosa, figlia di Rocco e Filomena Maria Isabella Pinto,
nata a Montemurro che da bambina insieme ai genitori si era trasferita a Stigliano,
nel 1895 Giuseppe con la nuova compagna Maria Rosa, insieme ai due figli di lui,
Lucia di anni 5 e Vincenzo Rocco (JIMMY) di anni 3, ritorna a New York.
Jimmy Savo (Vincenzo Rocco Sava) sposa il 1° luglio 1918 in Newark (New Jersey) Frances Victoria Browder.
Il 10 settembre 1935 Jimmy divorzia (a Reno, Nevada).
Dall'unione, il 6 dicembre 1918, nasce a Chicago (Illinois) Jimmy Vincent Savo junior,
deceduto a Carson City (Nevada) il 25 aprile 2002.
Jimmy Junior aveva sposato Adah Deborah Ball da cui ebbe tre figli:
Joan Deanne Savo nata il 10 settembre 1941,
Jane Elizabeth Savo e Deborah Junior Savo nate entrambe a Los Angeles (California)
rispettivamente il 10 gennaio 1946 e il 30 aprile1956.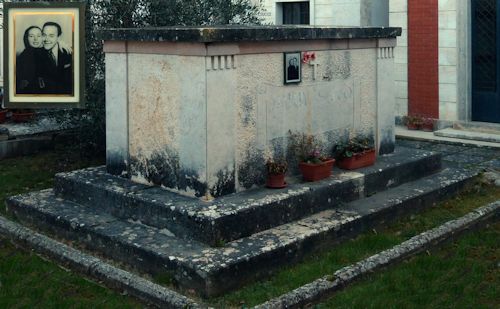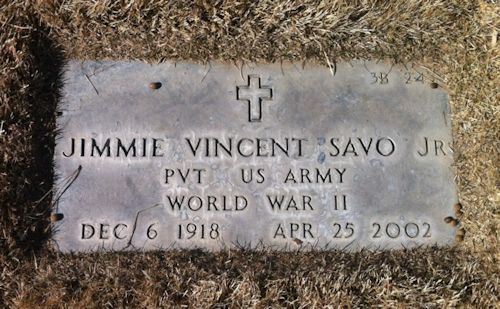 Tomba di Jimmy padre a I-Guardea (Terni) e Figlio a USA-Carson City (Nevada)
Jimmy father grave in I-Guardea (Terni) e Jimmy son in USA-Carson City (Nevada)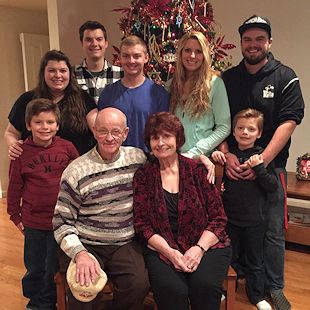 La famiglia di Joan Deanne Savo
Joan Deanne Savo's family
Fonte dei dati: Derosa Rocco - Associazione "l'urrrlo del colombo" - Vico 2° San Nicola, 7 - 0835 565179
e Cammisa Antonio - Biblioteca Comunale "R. Montano" - Via Zanardelli, 33 - 0835 5671
I-75018 Stigliano (Mt) - (dati: 2014 e 2015)
Per le attività Culturali su Stigliano si veda in: http://www.angolodellamemoria.eu
For the first time Stigliano's citizens hear the name of Jimmy Savo,
a fellow citizen once famous in the US, today everywhere unknown.
*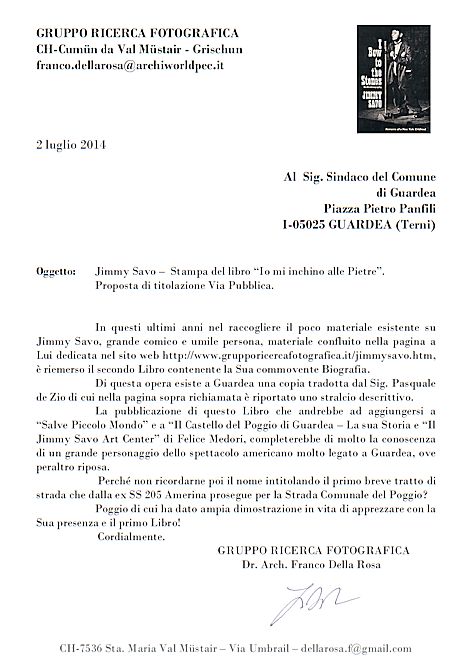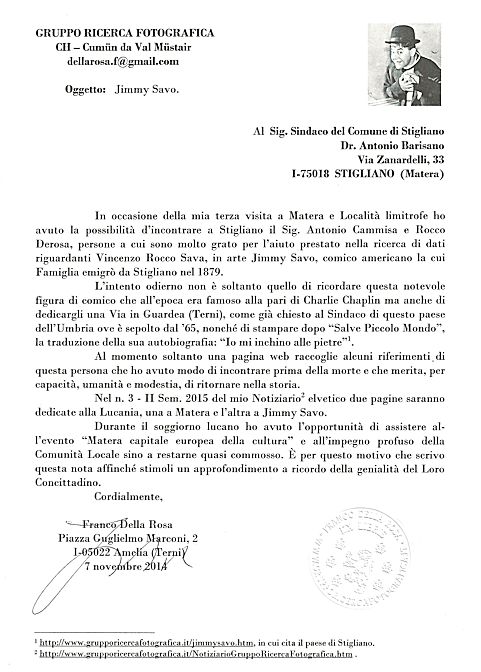 *
Contributo d'informazioni di
Giampiero Lattanzi sindaco di Guardea
(materiale tolto dalle mani di Alessandro Ranucci
di Guardea, il maggior depositario di documentazione
ereditata alla morte di Lina Farini, responsabile della
totale dispersione delle fonti)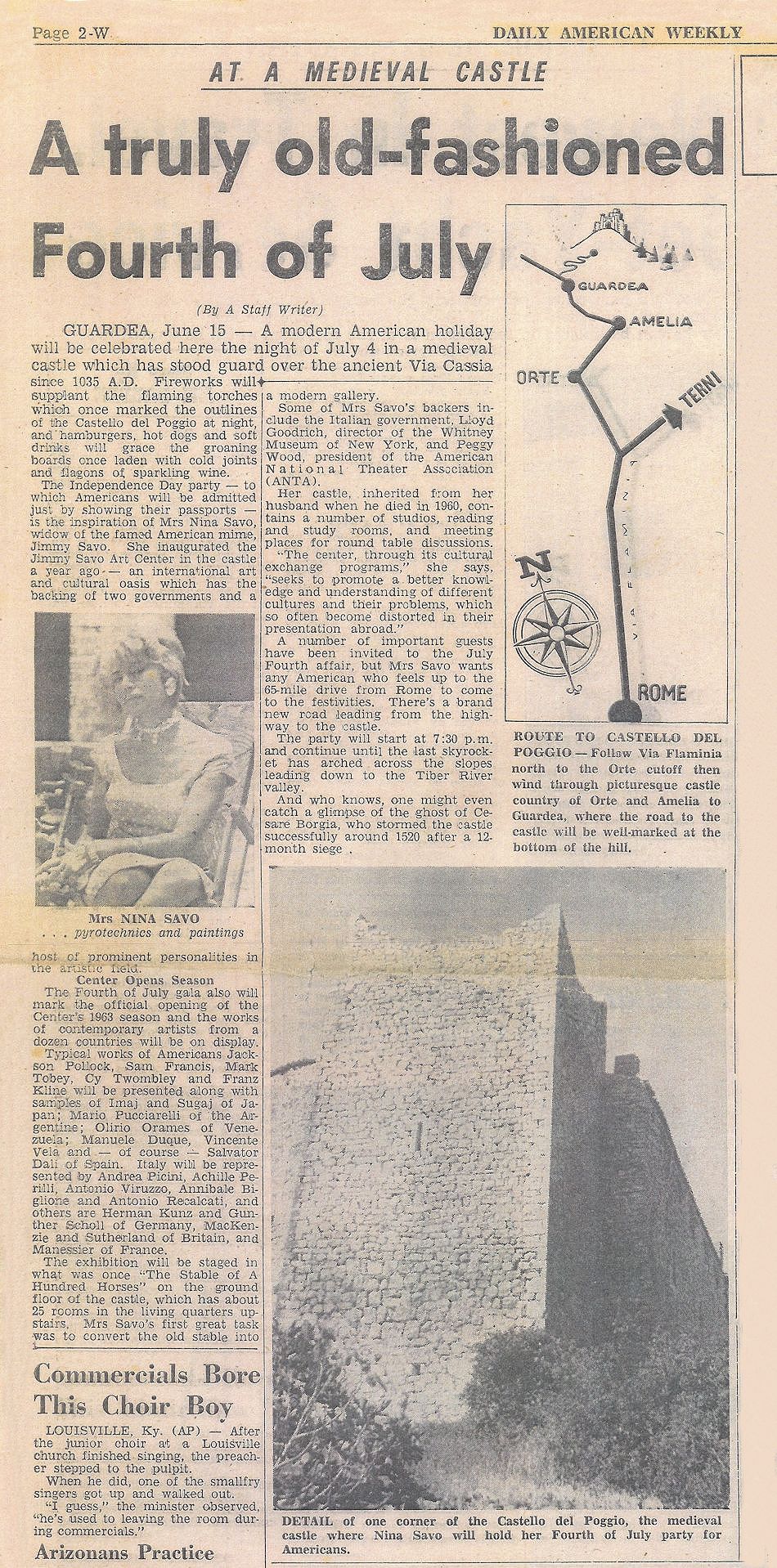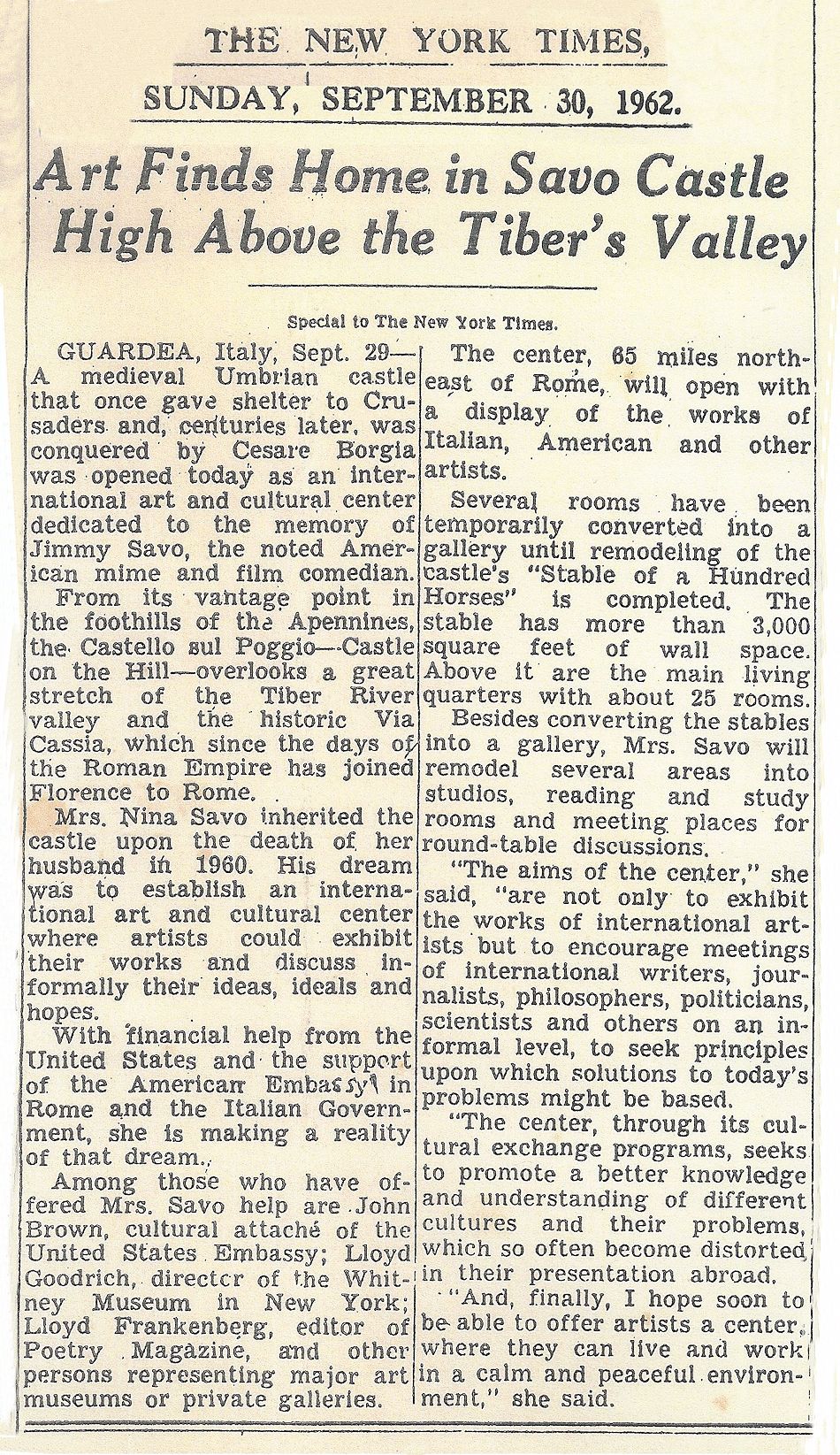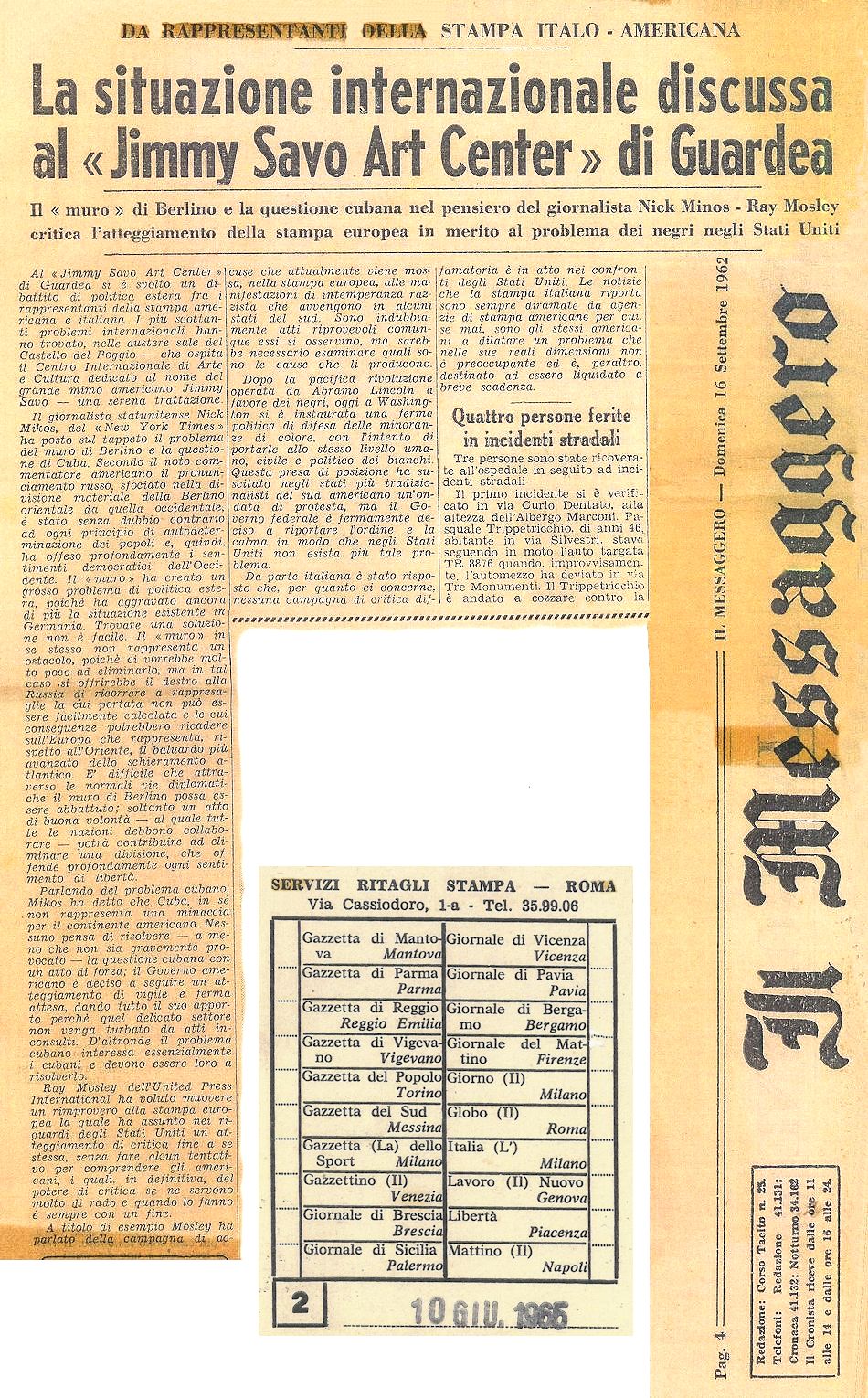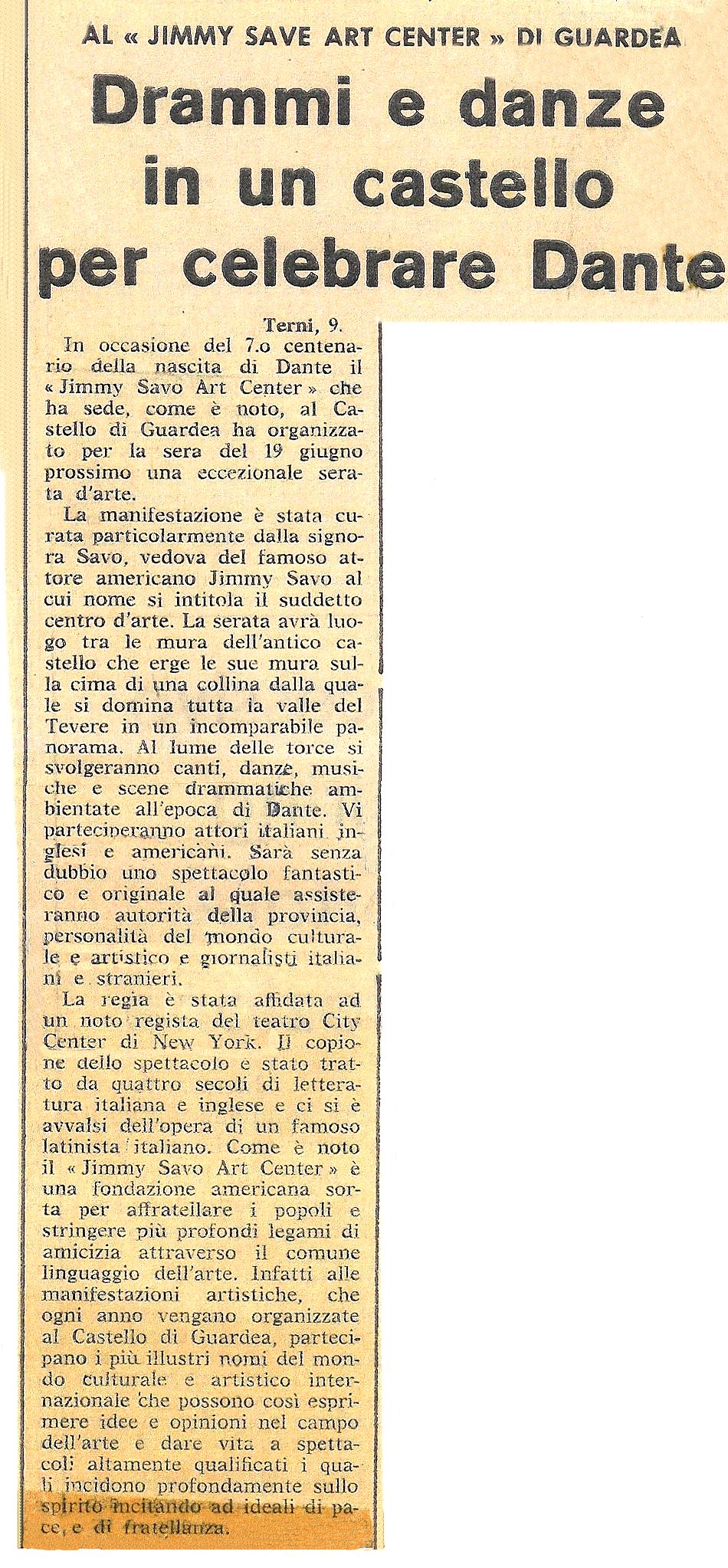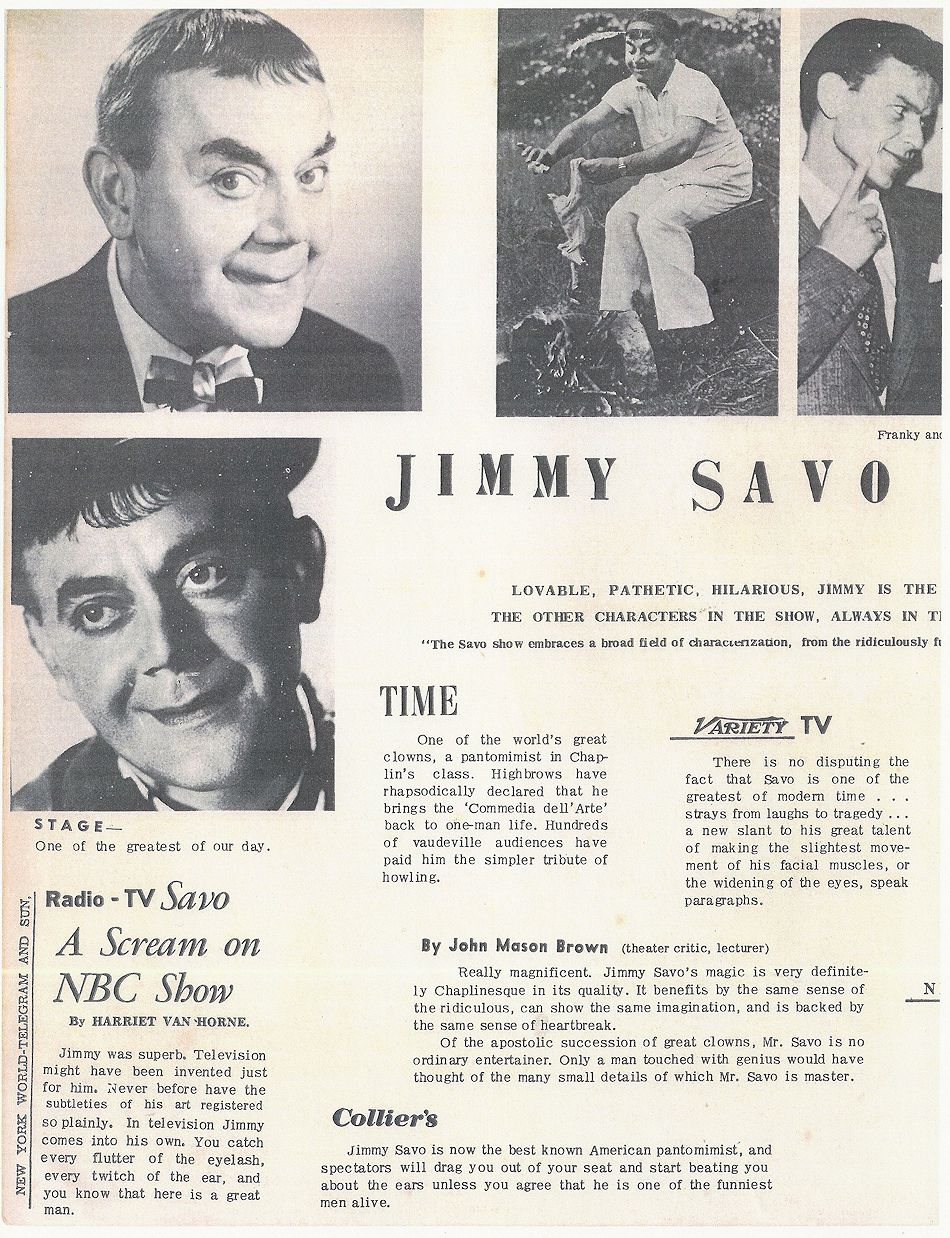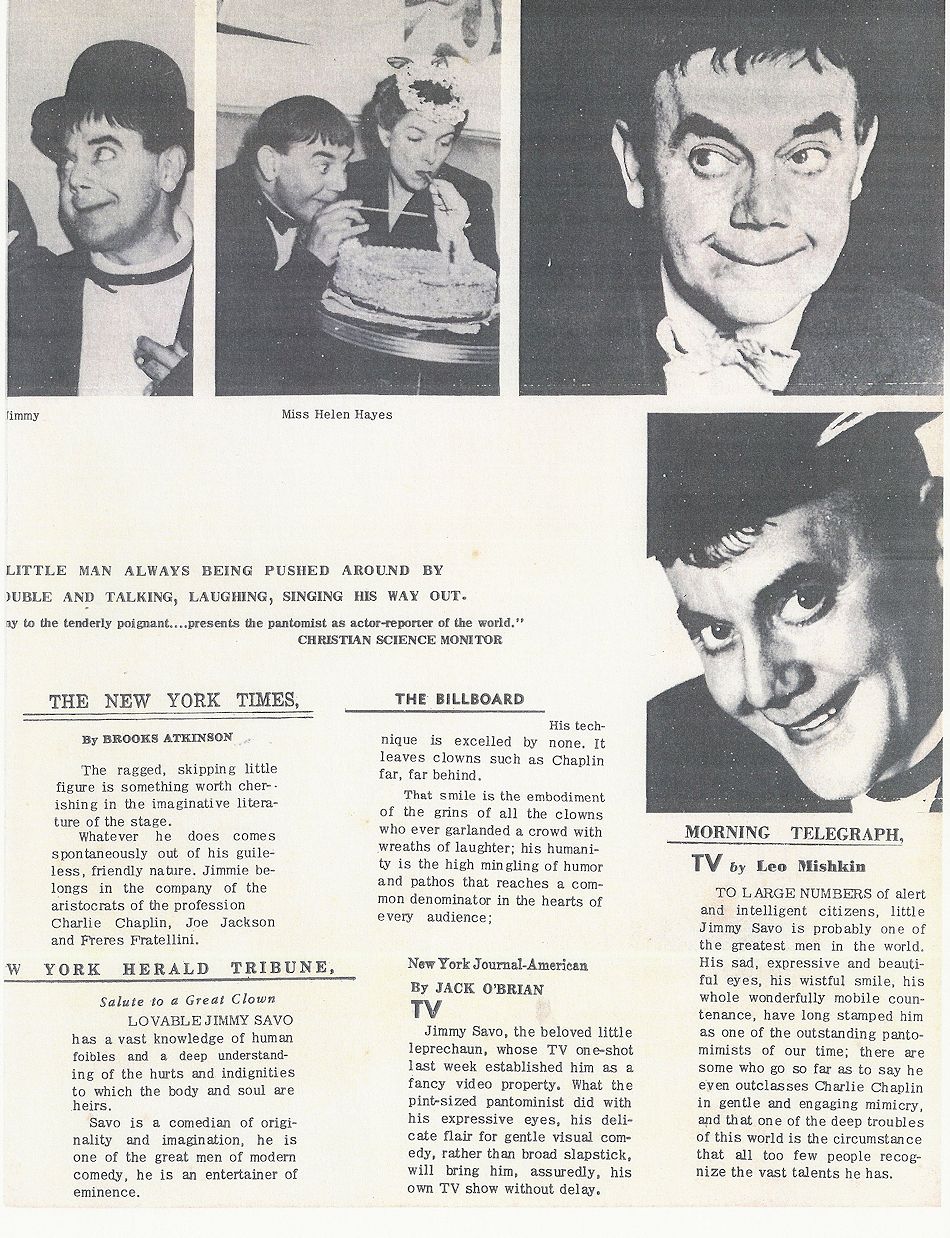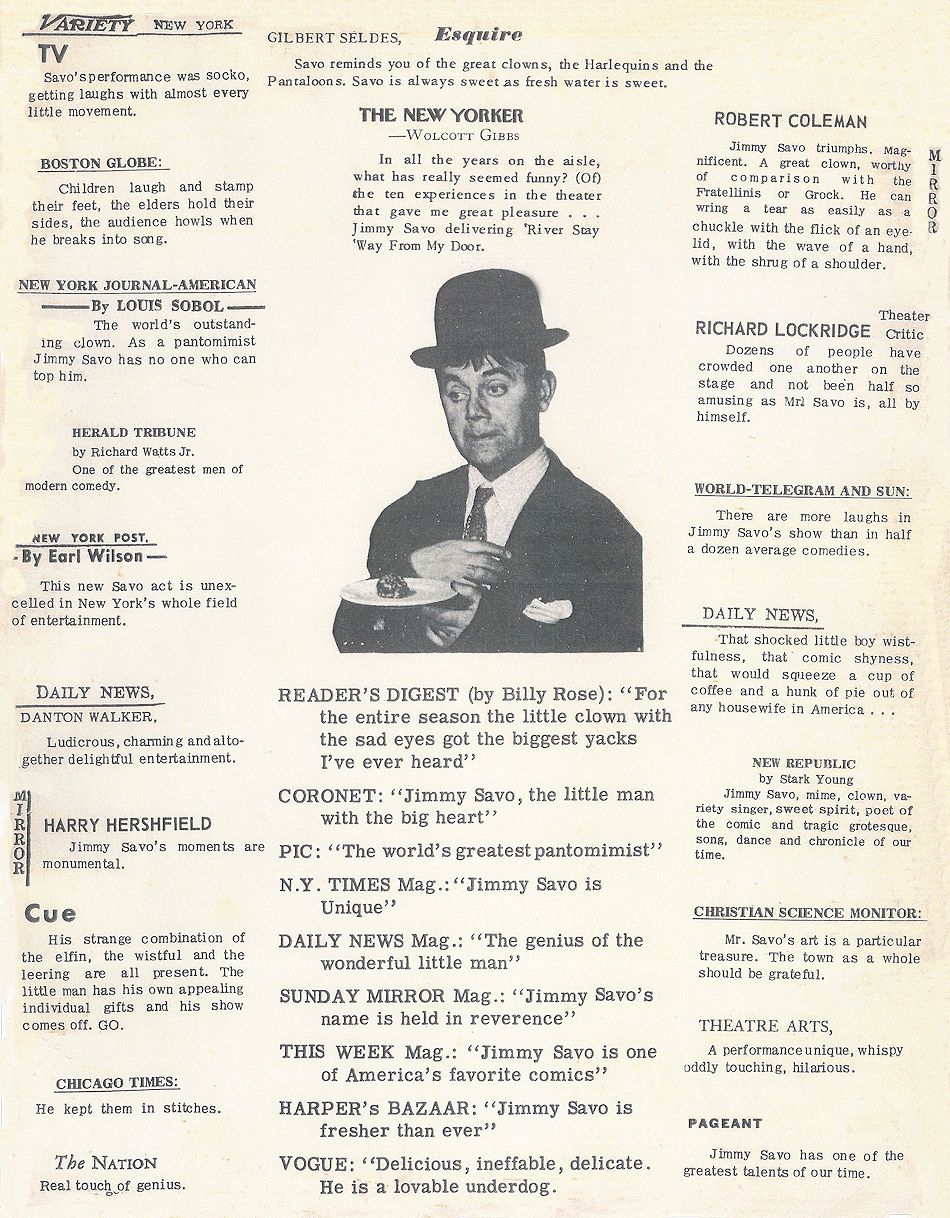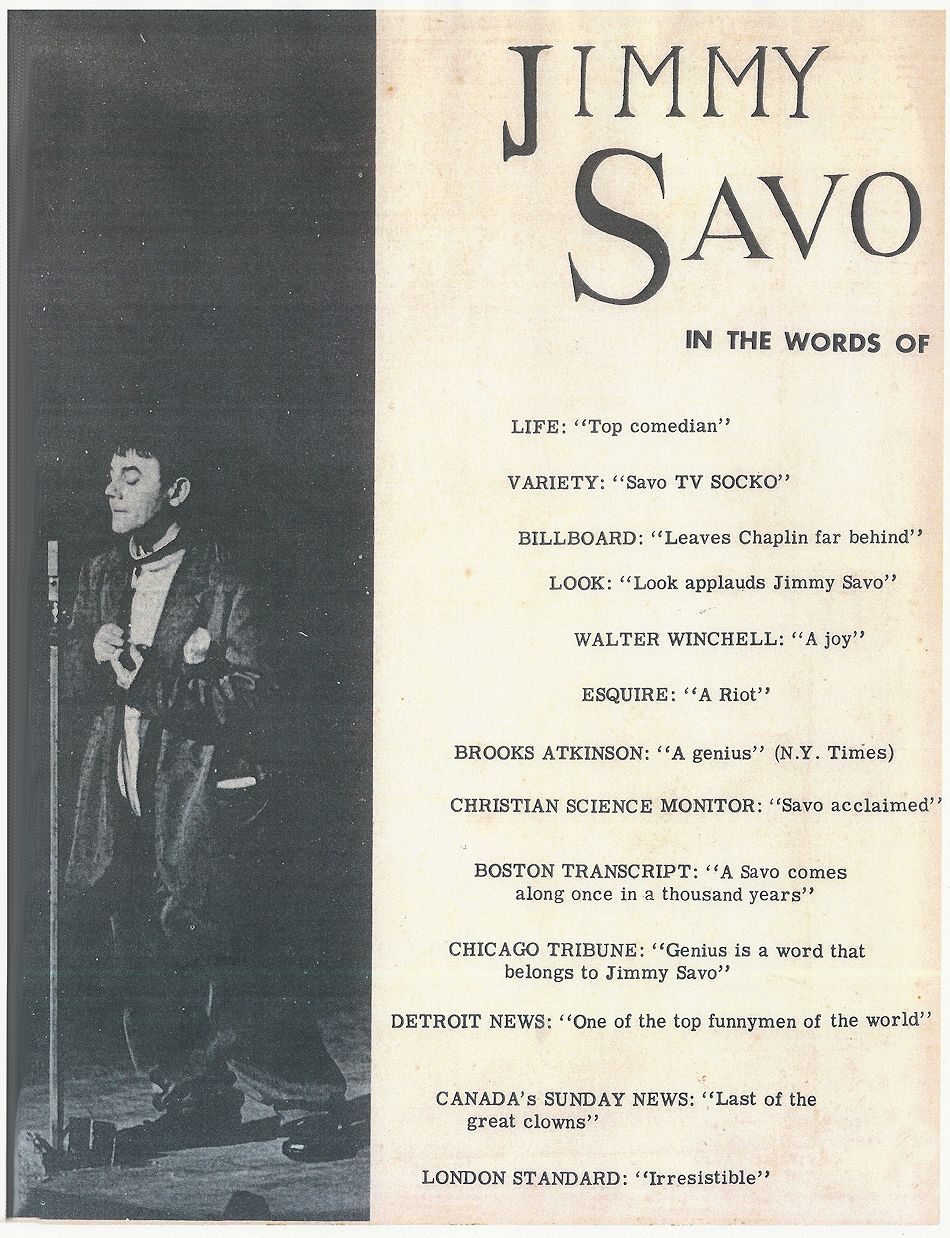 *
15 ottobre 2015:
Stigliano, tre persone scoprono Jimmy Savo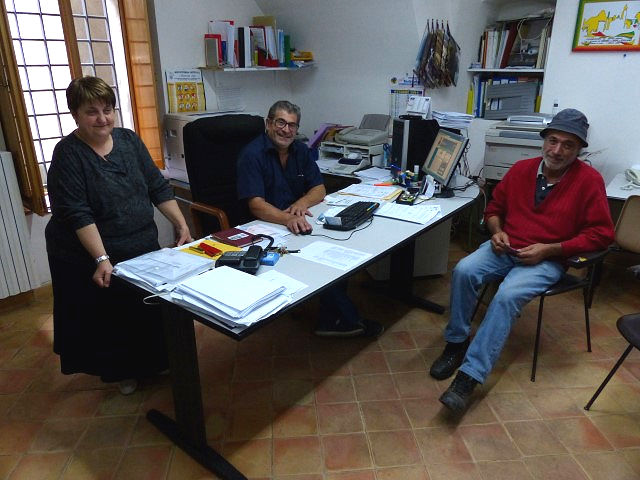 Stigliano (Matera), Rocco Derosa, Antonio Cammisa e Angela Calbi ascoltano increduli,
da Franco Della Rosa, presso la Biblioteca Comunale, per la prima volta il nome di Jimmy Savo.
(foto Franco Della Rosa)
*
23 aprile 2016:
Gli abitanti di Stigliano scoprono Jimmy Savo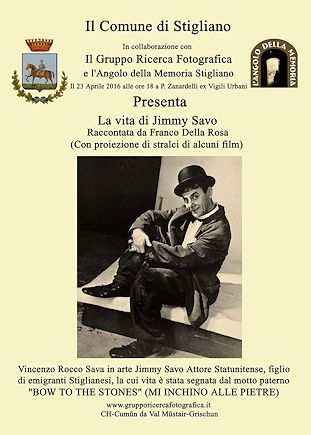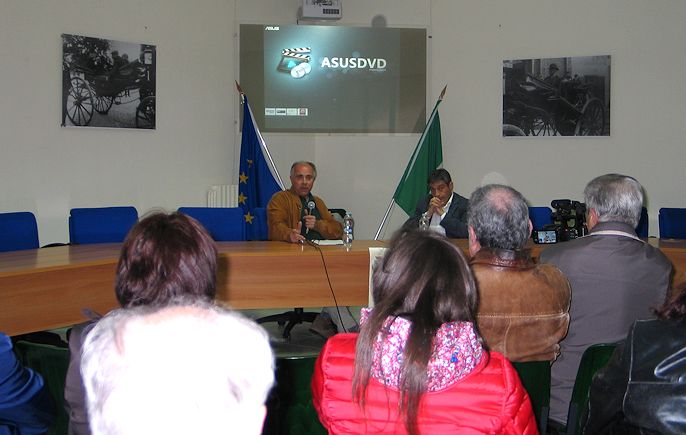 Gli abitanti di Stigliano per la prima volta apprendono il nome di Jimmy Savo
un concittadino famoso negli Stati Uniti oggi ovunque sconosciuto
Introduzione del sindaco Antonio Barisano
Presentazione di Franco Della Rosa
Storia - Filmati - Dibattito
Immagini di Rocco Derosa
Il filmato della serata:
https://www.youtube.com/watch?v=ylyN-MF5WVg
*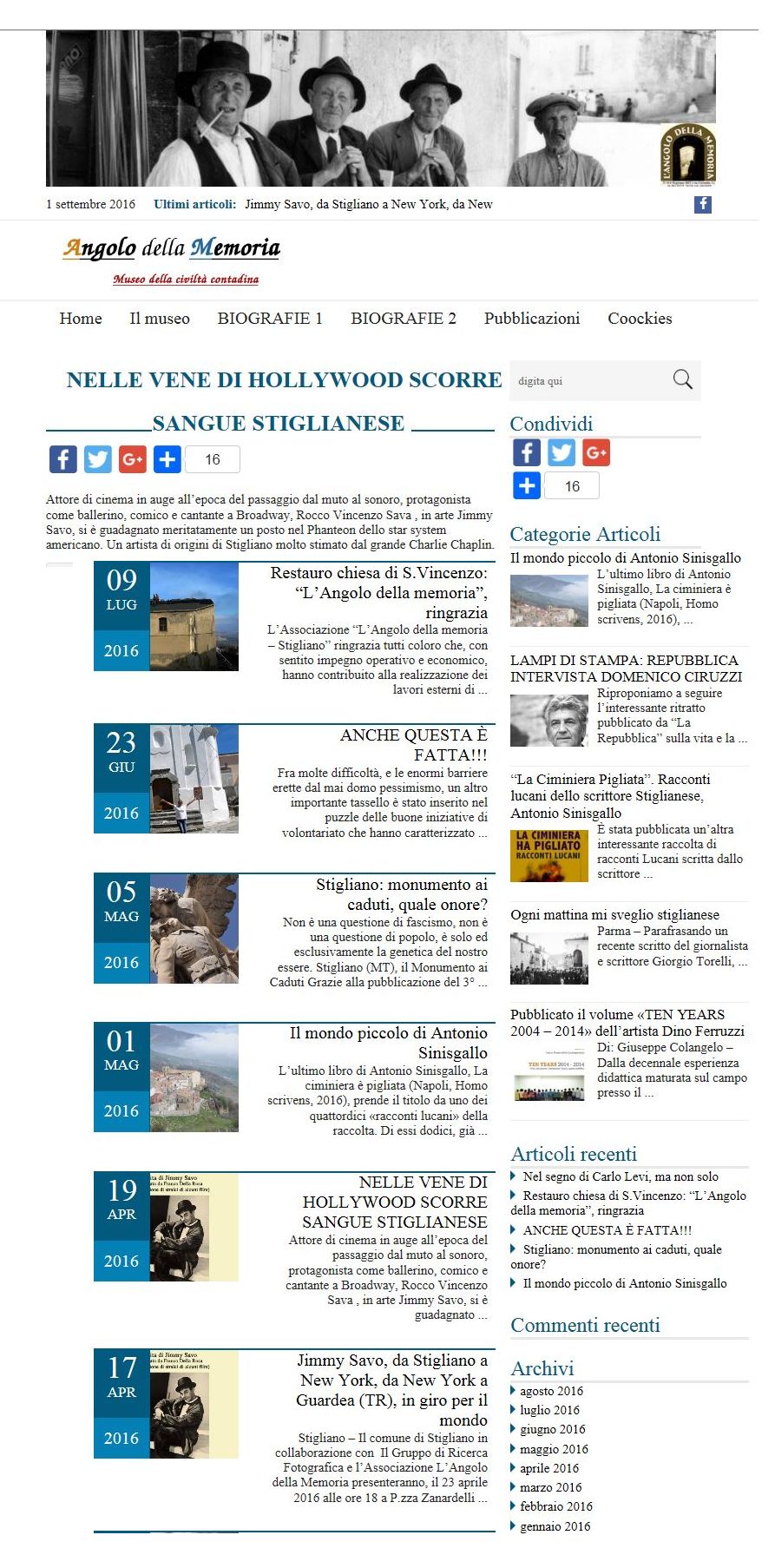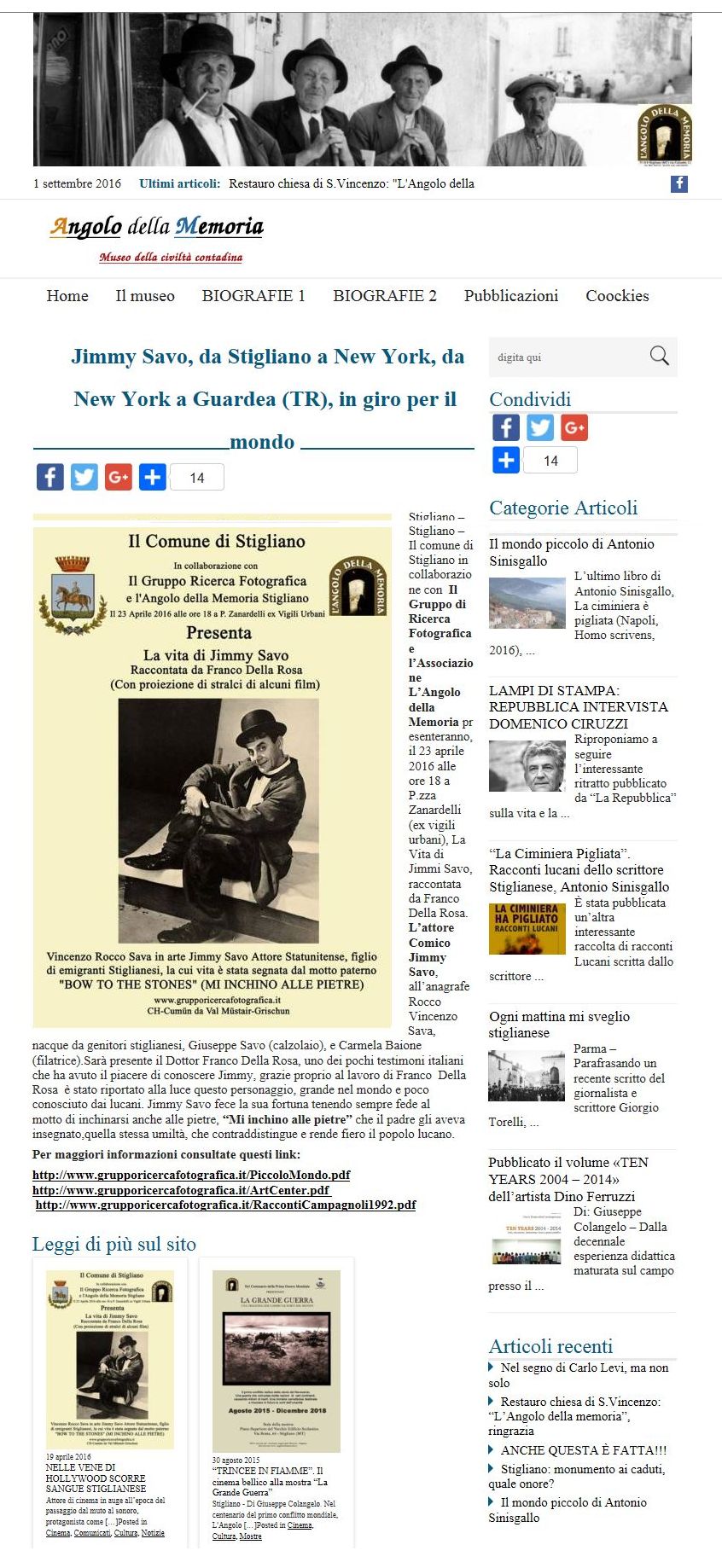 *

*
12 agosto 2016:
Stigliano scopre Jimmy
con la prima proiezione di un film
"Carry on Sergeant" (Proseguire Sergente)
è un film muto realizzato in Canada nel 1927-28.
Tratta di un gruppo di lavoratori che decidono di arruolarsi nella Grande Guerra
e di sbizzarrirsi nei risvolti d'essere soldati, tantoché uno di loro si sposa una cameriera francese.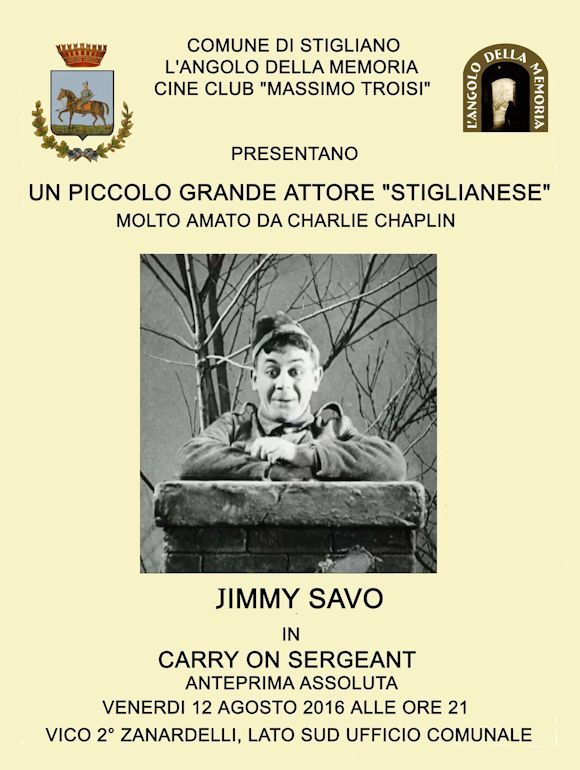 *

*
Parlano di Jimmy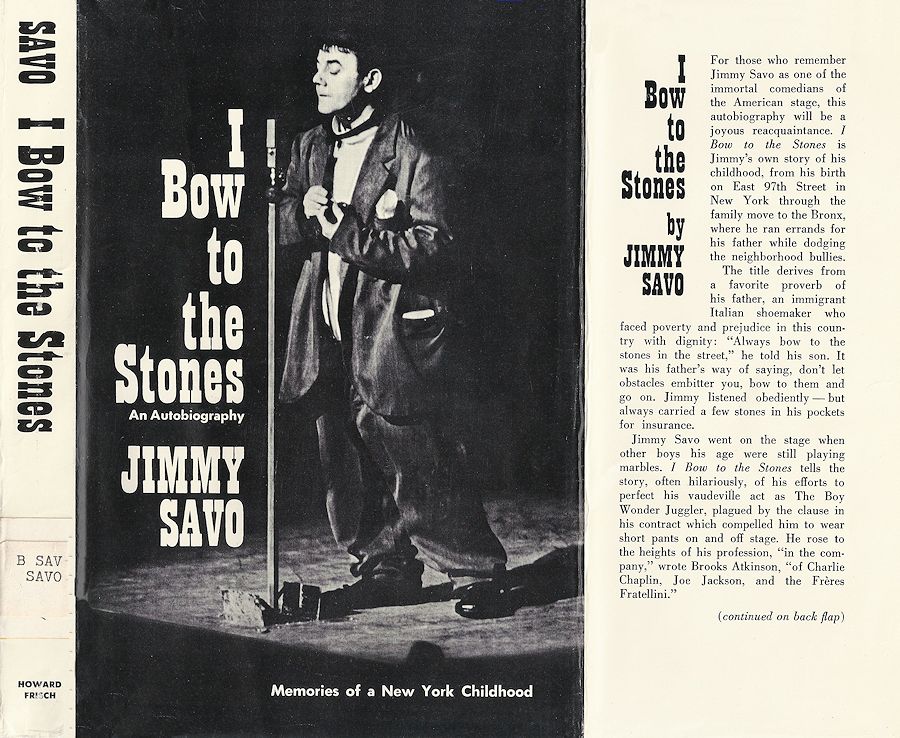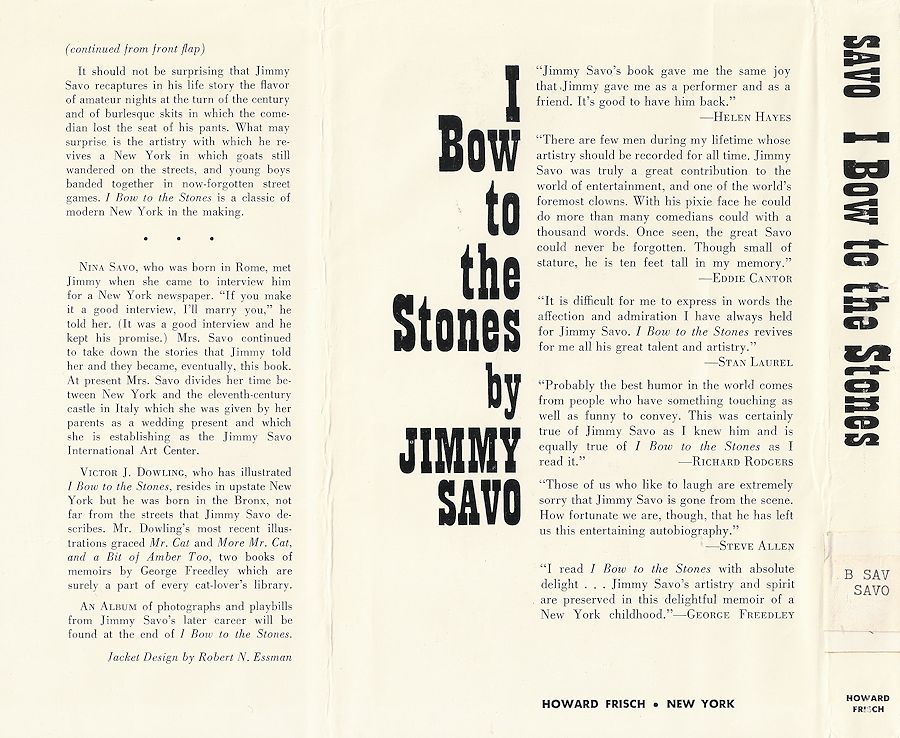 *
Contributo filmato di
Felice Lacetera da Stigliano
Settembre 2017
https://www.youtube.com/watch?v=BNp5rk0qGdo
https://www.youtube.com/watch?v=nrj5TA5UUFg
► e il suo nuovo sito web su Jimmy ◄
http://jimmysavo.altervista.org/
Numero di repliche di alcuni spettacoli musicali di Jimmy presentati in alcuni teatri di Broadway in 20 anni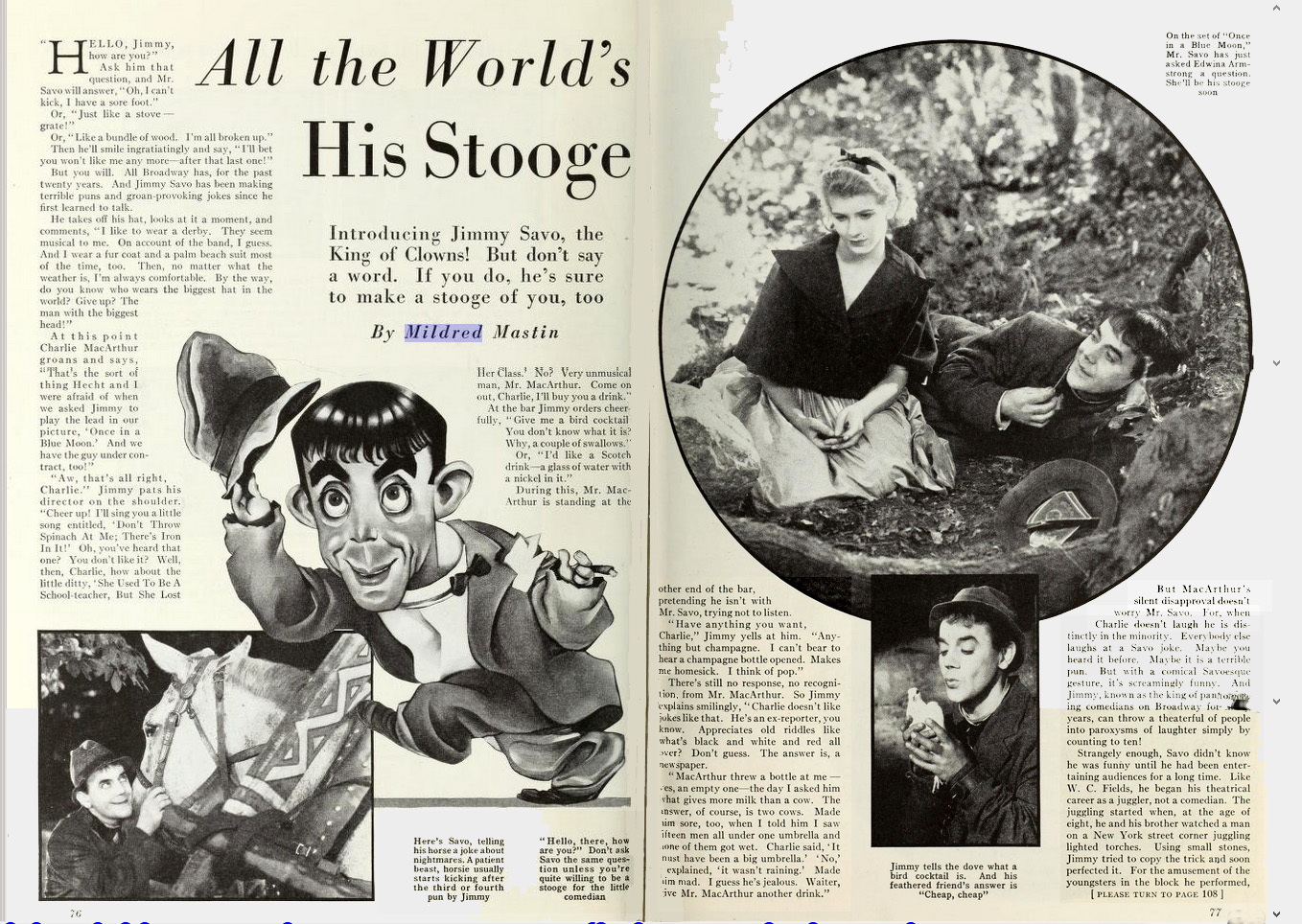 *
Contributo di
Maria Rita Guerrini
28 dicembre 2017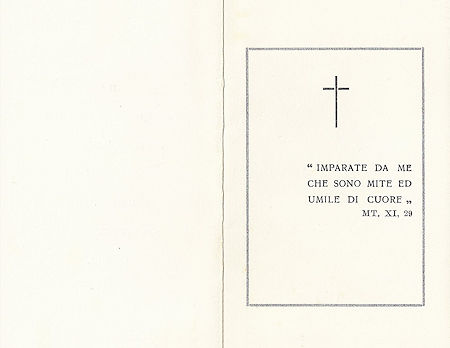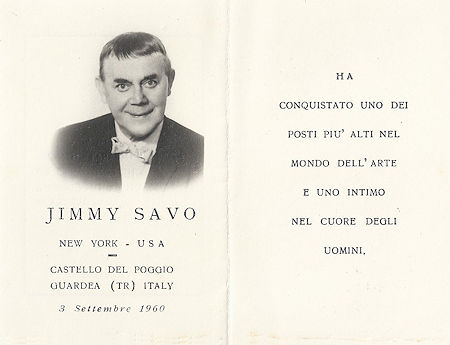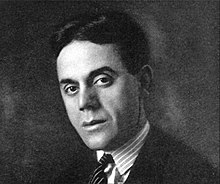 Da Wikipedia
*
Contributo di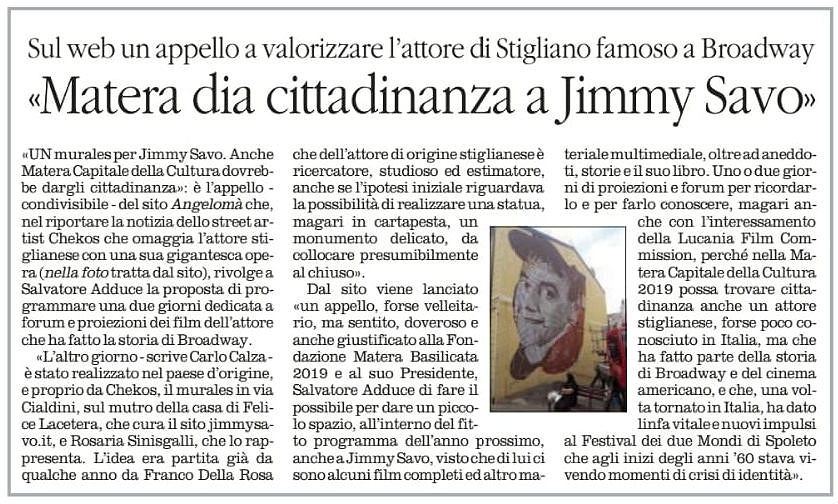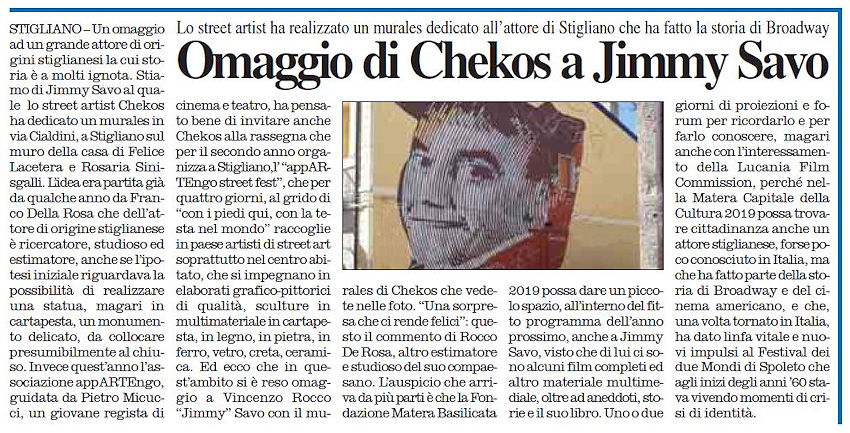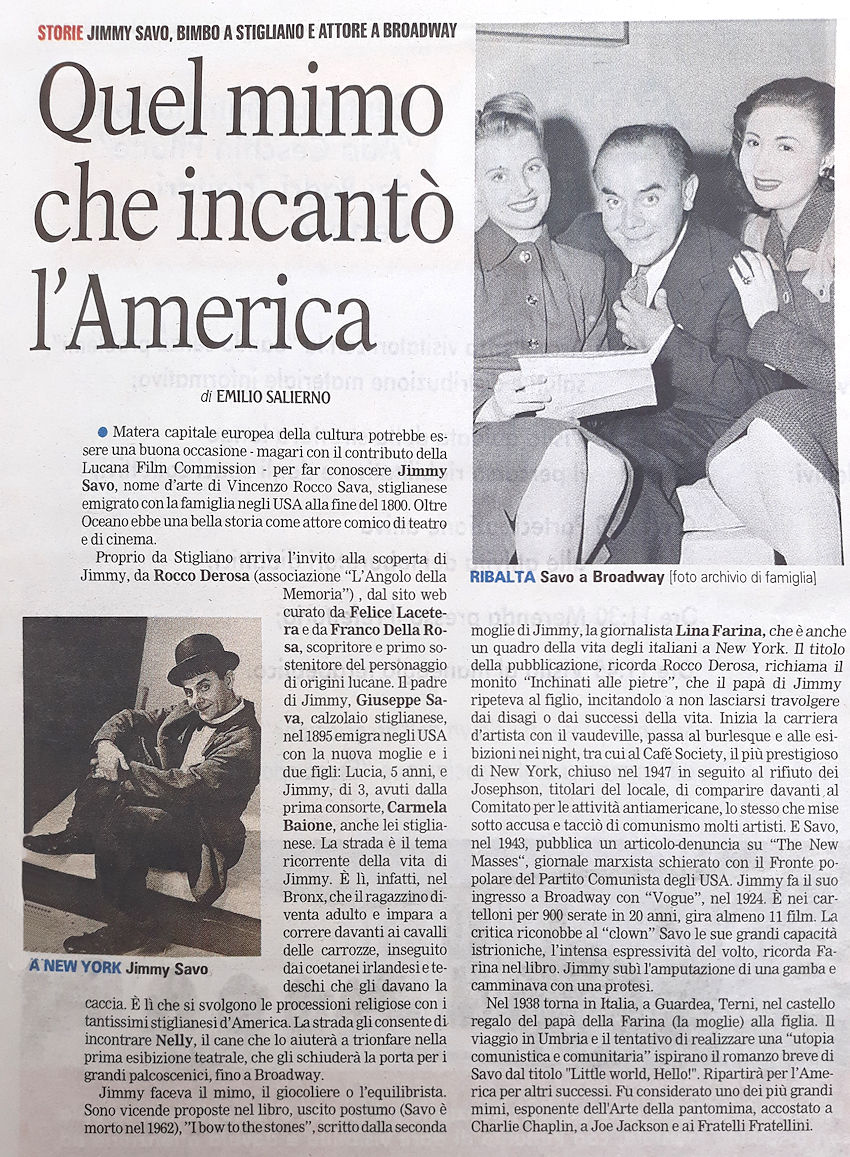 La Gazzetta del Mezzogiorno - 12 ottobre 2018
*
Il libro "Salve, piccolo mondo" è
edito dal Gruppo Archeologico Guardeese
a cura di Pasquale de Zio
Grafica Arch. Franco Della Rosa
Agosto 1998 - 1/16 - pp. 128
1° traduzione italiana dell'edizione americana pubblicata
da Simon and Schuster - New York - 1947
PER TROVARE LA BIBLIOTECA OVE CONSULTARE IL LIBRO:
http://opac.sbn.it/cgi-bin/IccuForm.pl?form=WebFrame
(Estero: Biblioteca Cantonale Coira)
www.grupporicercafotografica.it
VEDI ANCHE IN:
www.grupporicercafotografica.it/Guardea.htm
www.grupporicercafotografica.it/archeo30.htm
http://faculty.gvsu.edu/websterm/cummings/Ordeman6.htm
http://travsd.wordpress.com/2009/12/21/stars-of-vaudeville-95-jimmy-savo/
http://www.vaudeville.org/profiles_Q_Z/index_files/Page1673.htm
http://www.nytimes.com/movie/review?res=9C0DE5DF1F39EE3BBC4A53DFB467838D629EDE